AMD Ryzen 5 3600 is a powerful 12-threaded, 3.6 GHz 6-core processor that is designed for socket AM4 motherboards. This third-generation Ryzen processor offers increased performance and efficiency if compared to its predecessors with its Zen 2 architecture and improved structuring.
Finding the best motherboard for Ryzen 5 3600 can be challenging as the processor and the motherboard must fully be compatible with one another for the best results.
The Ryzen 5 3600 has a base clock rate of 3.6 GHz which, on the maximum turbo, can reach up to 4.2 GHz. 
Our Top 3 Recommendations
In case you are in a hurry, here are our top 3 recommendations on the best motherboard for Ryzen 5 3600.
Editor's Choice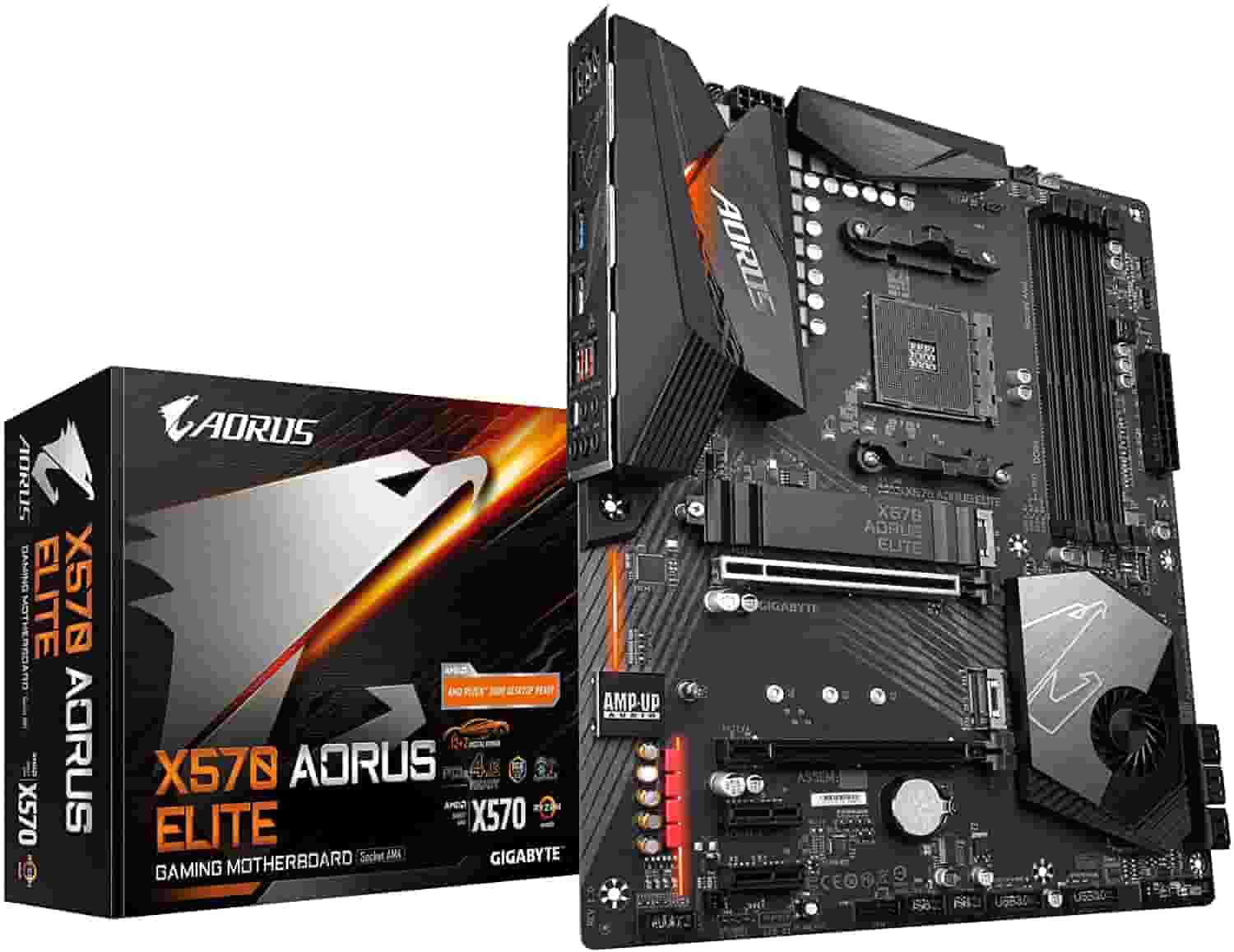 Gigabyte X570 AORUS Elite
Capable of supporting AMD 3rd, 2nd Generation, and Ryzen with Radeon Vega Graphic processors
Has heatsink on the necessary places
128 GB Ram capacity
Decent RGB lighting
Excellent port selection
Integrated I/O shield
Good value

No rear Type-C port
Top Pick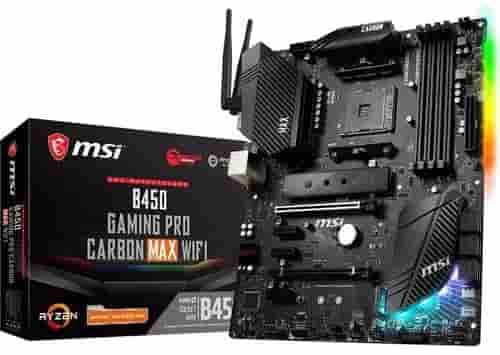 MSI B450 Gaming Pro Carbon Max WIFI
Extended Heatsink Design
AMD USB 3.2 Gen2 (Type A+C)
Mystic Light Sync and Mystic Light
DDR4 memory support up to 4133 (OC) MHz
Audio Boost 4 with an amplifier
Compatible with Ryzen with Radeon Graphics card processors in 1st, 2nd, and 3rd Generations
128 GB Ram capacity

Compatibility issues with BIOS were reported
Budget Friendly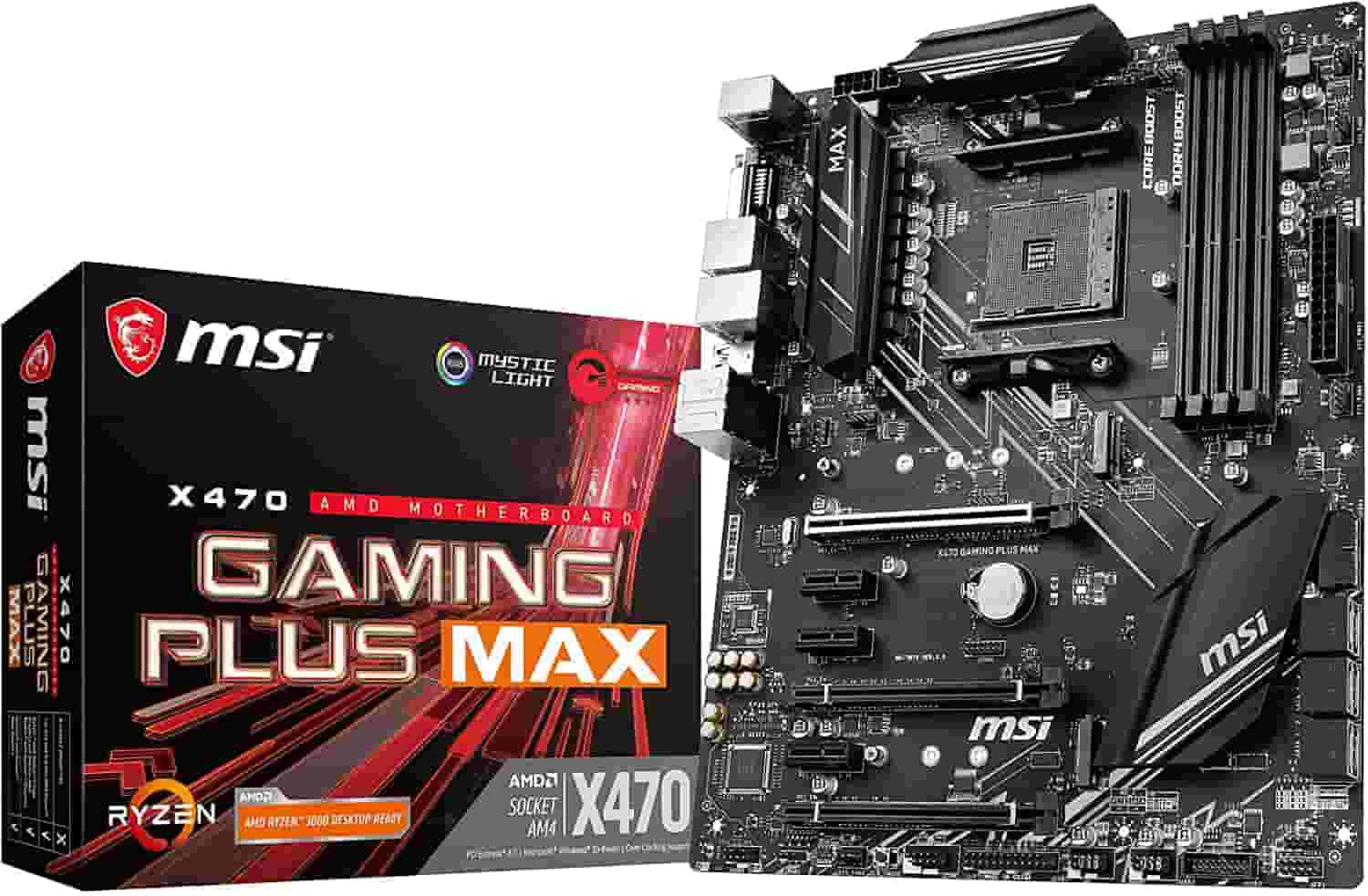 X470 GAMING PLUS Max
Supports 1st, 2nd, and 3rd Generation AMD Ryzen with Radeon Vega Graphics or Ryzen processors with AM4
Features Core boost and Audio boost
Supports up to 4133 (OC) MHz DDR4 memory
Advanced connectivity with multiple ports
Maximum RAM memory at 64GBs

Inefficient RGB solution
Ryzen 5 3600 processor is ideal for high-demanding tasks, multi-core applications, and high-end gaming, but it should be paired with a powerful AM4 socket-type motherboard as well.
Motherboards are the backbone of any PC, their form factor, onboard features, processor support, ports, and expansion slots, ratings, and brands must all be up to the mark to run your system smoothly.
The good part is that Ryzen 5 3600 is rated 65 W TDP, which means you don't need a top-of-the-line VRM (Voltage Regulating Module) or extra features on the board you're pairing it with.
But, this does not mean just any motherboard will do the job. Click here to read some key factors you need to consider when you're hunting for motherboards compatible with Ryzen 5.
Top 10 Best Motherboards for AMD Ryzen 5 3600
1. Gigabyte X570 AORUS Elite – Editor's Choice
Reasons to Buy
True 12 Phase Digital VRM
AMP-UP Audio, ALC 1200
Smart Fan 5 technology
Reasons to Avoid
No Wi-Fi or Bluetooth Support
Gigabyte's AORUS X570 motherboard is equipped with greatness and next-generation connectivity. This motherboard is easily the best motherboard for Ryzen series processors and is already quite popular amongst gamers.
There is an onboard USB Type-C header for USB 3.2 Gen2 connections. The Gigabyte Q-Flash Plus eliminated the hassle of installing CPU, graphics card, or memory for flashing the BIOS, all you need to do is download and then save the file on a USB flash drive and press the dedicated Q-Flash button to get going. 
This motherboard is equipped with an integrated I/O shield for making the PC built more seamless and convenient. It offers support for USB Type-C and PCIe 4.0 interfaces with other features such as refined audio, the latest standard WIFI, and high-speed Ethernet.
The X570 AORUS Elite motherboard utilizes a 12 +2 phases VRM digital CPU design power that has both the DrMOS and PWM Controller. These two controllers are 100% digital and offer stunning precision when delivering power to the motherboard and its most energy-sensitive and power-hungry components.  
For M.2 SSD devices, Gigabyte X570 provides an efficient thermal solution that includes a thermal guard for preventing any throttling or bottlenecks by dissipating heat before it can cause any issues.
This motherboard offers compatibility with up to 4000 MHz profiles and beyond. If the users have an XMP memory module function activated and enabled on their motherboards, they can achieve this performance boost easily.
It also features a smart Fan 5 with Hybrid Fan Headers and an extended VRM heatsink.
The heatsink is big enough to dissipate and reduce heat from the CPU and the motherboard efficiently without causing any unwanted mishaps.
The motherboard is capable of supporting AMD 3rd Generation Ryzen processors, 2nd Generation Ryzen processors, and Ryzen with Radeon Vega Graphic processors. This is perfect for users who are aiming at building themselves an AMD platform for gaming and intense usage. 
2. MSI B450 Gaming Pro Carbon Max WIFI – Top Pick
Reasons to Buy
DDR4 memory support up to 4133 (OC) MHz
Mystic Light Sync and Mystic Light
Core Boost and Audio Boost solutions
Reasons to Avoid
Compatibility issues with BIOS were reported
Inefficient tech support
With a unique carbon fiber look and a high performance built, the MSI B450 Gaming Carbon Max Pro scores as the best motherboard for Ryzen 5 3600x.
This motherboard comes with enhanced BIOS compatibility for supporting multiple Ryzen processor generations including the Ryzen 5 3600. The Click BIOS 5 has advanced system tuning abilities and easy to use layout for all kinds of users. 
The motherboard features an extended heatsink placed on top of the VRM helps in dissipating extra heat from the system and the surface area is wide enough to dissipate thermal heat with the same efficiency.
To eliminate slow and lagging operation completely from your life, the M.2 shield maximizes performance for you. With the aid of an extended heatsink, the M.2 shield sustains M.2 SSD data transfer speeds at maximum all while preventing SSD Thermal throttling. 
It also features the Intel Wi-Fi and Bluetooth technology that uses smart and new MU-MIMO technology which can deliver up to AC speed of 1.73 Gbps.
It also has RGB solutions for you to customize and personalize your PC or gaming rig as you like. The RGB LED lighting can take 16.8 million colors and similar effects through the impressive Mystic Light application.
There is another new advancement of MSI's motherboard power delivery to the CPU system and it's called the Core Boost. The fully digital power design and a premium layout of the motherboard devises a highly efficient power delivery system.
There is a reserved zone for power delivery components that are laid on an optimized circuit board to enable the beforementioned precise current output for the CPU.
The motherboard can run with Ryzen and Ryzen with Radeon Graphics card processors in 1st, 2nd, and 3rd Generations. The DDR4 Boost means there is isolated memory circuitry and optimized traces. With that comes the studio-grade sound quality from Audio Boost 4 Nahimic for all music lovers.
3. X470 GAMING PLUS Max – Budget Friendly
Reasons to Buy
Supports up to 4133 (OC) MHz DDR4 memory
Features Core boost and Audio boost
Advanced connectivity with multiple ports
Maximum RAM memory at 64GBs
The MSI X470 Gaming Plus is perhaps the best B450 motherboard for Ryzen 5 3600 you'll come across. This motherboard supports 1st, 2nd, and 3rd Generation AMD Ryzen with Radeon Vega Graphics or Ryzen processors with AM4.
This performance gaming motherboard can support multiple generations of Ryzen processors including all of the Ryzen 300 series. The enhanced BIOS 5 features advanced system tuning capabilities with a very easy-to-use layout design. 
The latest advancement in MSI motherboards is the Core Boost that features an efficient power delivery system from a reserved zone to deliver precise current to the CPU. It is curated smartly to support more cores and resultantly give an improved performance of the CPU.
The memory performance of this motherboard is quite impressive as the memory circuit design has an optimized memory circuit that has been tested for reliability and stability extensively.
With great memory and storage, the MSI X470 also features an Audio Boost with an HD audio processor, high-quality audio capacitors, and dedicated amplifiers which are isolated from the rest of the motherboard circuits.
This isolated circuitry allows the easy location and accurate detection of enemies and issues to ensure a pure audio signal transmission at all times. 
Being one of the best motherboards for Ryzen 5 3600, the MSI X470 secures all its slots and makes sure no connection is compromised.
The PCI Express Steel slots are secured with extra solder points to the motherboard and have been reinforced for taking up the weight of heavy graphics cards.
This motherboard pairs up nicely with the Ryzen 5 3600 processor to give the ultimate gaming experience for action lovers.
The unique array of MSI gaming tools, software tools, and clever hardware are there to boost your in-game performances and keep you one step ahead of your competitors.
Moreover, the motherboard also comes with Mystic Light and Mystic Light Sync in seven colors and effects. It also allows you to synchronize RGB solutions and further customize your experiences. 
4. ASUS Prime B450M-A/CSM – Best Ryzen 5 3600 Compatible Motherboard
Reasons to Buy
The 5X Protection III ensures long-term durability of the hardware
520+ DDR4 compatibility and 1000+ compatible devices
Built for reliability and safety
LED illuminated PCIe slots
Reasons to Avoid
Not great with overclocking
The perfect motherboard for Ryzen 5 3600, and capable of pairing up with any 1st, 2nd, or 3rd generation AMD Ryzen CPU for efficient and improved performance.
ASUS Prime B450 lays a solid foundation for your PC, giving you the flexibility to connect and the luxury to expand.
The design and artful engineering of the board by ASUS packs all the industry-leading technologies including comprehensive cooling controls, automated system tuning, and immersive onboard audio. 
When exploring a little more of the features this best motherboard for Ryzen 5 3600x has to offer, the incredible Fan Xpert 2+ software takes the lead.
It offers complete control over all the system fans just by a simple easy to use software where you can also turn on the Auto-Tuning mode to let it configure all the parameters on its own and keep the system from overheating.
And, all this intelligent operation is just one click away! In addition to this smart UEFI BIOS, the ASUS Prime B450 motherboard also features multiple temperature sources where each header is capable of monitoring and reacting to the dedicated thermal sensors.
Along with that, each CHA FAN onboard can support DC and PWM mode as well.
The Prime B450 series is an all-rounder when it comes to serving different types of users. It is versatile enough to support a full gamut of Ryzen memory configurations all the way from entry-level to performance-oriented.
The motherboard comes with an ultimate 10 Gbps speed with backward-compatible USB 3.1 Gen2 Type-A on board to offer you blazing data transferring speeds which are two times faster than the USB 3.1 Gen 1.
There is also a future-proof USB 3.1 Gen 1 front-panel connector with two super-speed headers. This gives you the instant plug-and-play experience as you don't have to hunt for the hard-to-reach rear ports, and get 10X faster data-transfer speed than USB 2.0.
Then comes the onboard M.2 with x4 PCIe 3.0/2.0 bandwidth for supporting data-transfer speeds up to 32Gbps. It also features 1GB LAN, D-Sub, HDMI 2.0, and DVI display outputs.  The new AMD StoreMI technology accelerates system responsiveness and reduces loading times.
5. ASRock B450M STEEL LEGEND – Best Motherboard for Ryzen 5 3600
Reasons to Buy
12000 hours life supreme 12K black Nichicon capacitors
I/O armor for protection against static charge
High-density glass fabric PCB
Maximum memory support at 64GBs
The irresistible aesthetics and rock-solid durability offered by ASRock Steel Legend are built to respond appropriately to the most demanding features and specs it will be sporting.
This series aims at mainstream enthusiasts and daily users who like to keep the best motherboard for the Ryzen 5 3600 and offer them a wide array of strong components and competent features for reliable performance. 
The built-in LEDs have RGB solutions for pleasing effects and unmatchable customization. It allows synchronization for Polychrome RGB Sync-certified accessories and other RGB devices smoothly for easy and comprehensive controls over LED Strips, coolers, CPU Fans, chassis, and similar other RGB devices.
ASRock B450M steel legend features two of the world's fastest slots, the M.2 slots, where one can support SATA2 6Gb/s mode and the other is capable of delivering up to PCIe Gen3 x4 32Gb/s transfer speeds.
While we're discussing connectivity, this motherboard includes a pair on-board of USB 3.1 Gen2 Type-C and Type-A ports that have been built on the rear i/o to give support to the next generation USB 3.1 devices. This port is capable of delivering up to 10 Gbps of data transfer speed at all times.
You can overclock all you want without a single worry when you have an ASRock speed legend motherboard in your system as it has been built carefully with 2 ounces of copper inner layers and PCB layers. This precision and care in construction lead to higher energy efficiency and lower temperatures during overclocking.   
The voltage supply to the motherboard is enhanced via ASRock's Premium 60 A power choke that amps up the saturation current three times making it better and effective. This Vcore voltage to the motherboard.
The PCIe steel slot is covered in a protective solid to prevent any kind of interference with the graphics card and ensure that the card is safely installed in the PCI e slot. It is a perfect motherboard for high-demanding usage as it always stays cool due to the extra-large heatsink it sports that's made of aluminum alloy.
It effectively takes heat away from MOSFET and the chipset for a more stable performance by the system. 
6. GIGABYTE B450 I AORUS PRO Wi-Fi – Best Motherboard for Ryzen 5 3600x
Reasons to Buy
Capable of supporting AMD 1st and 2nd Generation Ryzen with Radeon Vega/Ryzen graphics cards
Un-buffed, dual-channel DDR4 memory
Smart Fan 5 and RGB Fusion technologies
Reasons to Avoid
Poor customer support
BIOS update issues may arise 
This incredible AORUS B450 Pro motherboard by Gigabyte is from Gigabyte's 400 series motherboards that are a perfect pair for Ryzen 5 3600 processors.
Maximize your and your PC's potential with more advanced controls and features including the AMD StoreMI technology for reduced boot time and enhanced user experience.
Gigabyte's AORUS, being one of the motherboards compatible with the Ryzen 5, takes the lead with its durable built and stunning set of features. 
Gigabyte offers a smart thermal solution for M.2 drives for improving durability and performance. The thermal guard is in place to prevent bottlenecks and throttling from M.2 devices by dissipating and reducing heat before it can accumulate and cause an issue.
For better communication and flexibility of connection, the AORUS B450 Pro comes with an advanced onboard 802. 11ac Wi-Fi module that can support Dual-band. This module from Intel can run up to 433 Mbps which is three times faster than 802. 11n. Moreover, it also supports Bluetooth 4.2 connections. 
From full RGB Support, you can control and customize the outlook of your PC as you like. A redesigned RGB Fusion application lets you retain complete control over lights and effects over LEDs surrounding the motherboard.
The AORUS AMP-UP Audio technology gives you the ideal sound solution onboard so even the most demanding audiophiles are satisfied with this motherboard. This motherboard sports a combination of high-end Chemicon audio capacitors and Hi-Fi grade WIMA FKP2 capacitors.
And to keep it all cool and under control, Gigabyte introduces a Smart Fan technology that allows its users to interchange and monitor their fan headers at different locations so they can reflect different thermal sensors on the motherboard.
The body of this AORUS motherboard has been designed by incorporating PCIe connectors for support of extra heavy graphics cards and the one-piece innovative stainless-steel shielding protects what's inside and ensures long life. It features the Dual PCIe Gen 3 M.2 NVMe having two thermal guards, as mentioned before. 
7. ASRock B450M-HDV R4.0 motherboard for Ryzen 5 3600
Reasons to Buy
Supports up to 150 W CPU
Six phases design with high-definition audio CODEC
A-Tuning software suite
Reasons to Avoid
Complaints about outdated UEFI BIOS
Perhaps the best motherboard for Ryzen 5 3600, the ASRock B450-HDV R4.0 works flawlessly with the Ryzen AM4 series processors and is capable of supporting up to 3200+ DDR4 (OC) memories.
This board includes four SATA 3 slots, one PCIe 3.0 x16 slots, six USB 3.1 Gen1 ports, and one Ultra M.2 lot, PCIe Gen 3 x4, and SATA 3 for diverse connectivity across multiple devices. It can also support triple-monitor and Ultra-HD 4K (3840 x 2160 pixels) setups with ease.
You needn't connect another graphics card for simultaneously using three monitors at once, this motherboard is capable of supporting three interfaces from rear I/O for making these connections.
It also features the impressive AMD StoreMI Technology which is capable of uniting the capacity of HDD and the speed of SSD together for better performance and increased efficiency. It combines these two storages in one single drive and moves the data you frequently use to the SSD automatically.
This way you get to enjoy the mechanical hard drive capacity and responsiveness of an SSD. You can utilize up to 2Gb RAM as a last-level cache to get ultra-fast data.
The Sapphire Black PCB comes with quality components making sure that the product is durable and is in a promising condition. It represents the rock-solid quality and gives an aesthetic edge to this motherboard. 
The high-density glass fabric PCB is designed in a way that shortens the gap between PCB layers for protection against electrical short circuits that can arise due to humidity. The motherboard's stable performance and longevity are ensured by the solid-state capacitors on this motherboard.
Moreover, for all the audio enthusiasts, ASRock features ELNA Audio Capacitors that, if compared with traditional solid caps, leak current at merely 3uAs which is the most important factor in reducing noise. 
Moreover, you get to enjoy precise controls and power due to the next-generation Hybrid Digi Power design as it ensures a safe and efficient power delivery to the CPU. ASRock's multi-purpose software suite called the A-Tuning is more advanced, enhanced, and packs many improved utilities.
The components on the motherboard, sensitive and vulnerable to power surges are protected by the Full Spike Protection to avoid any unwanted voltage spikes. 
8. ASUS ROG Strix B450-F Gaming Motherboard for Ryzen 5 3600
Reasons to Buy
Five-way optimization solutions
Gamer's Guardian pre-mounted I/O shield
Easy overclocking
Reasons to Avoid
No user manual included for clear instructions
Known for its efficient performance and flexible yet precise connections, the ASUS ROG Strix B450-F is easily the best b450 motherboard for Ryzen 5 3600. It is powered by a 2nd generation AMD Ryzen processor with an AM4 port.
There are many features this motherboard sports that let the user customize and personalize their experiences including the Aura Sync RGB, Fan Xpert 4, and more.
And, for improved connectivity, the integrated NVMe M.2, USB 3.1 Gen 2, and gigabit LAN are in place. 
For brilliant gaming thrills, the performance can further be pushed with exclusive AI Suite 3. This is a dashboard-style control panel where the user can fine-tune almost all the aspects of the ROG Strix B450-F system.
This intuitive interface allows control over overcooling, performance, efficiency, and stability. The design is smartly built for the most comprehensive cooling solution ever.
The UEFI BIOS or the Fan Xpert 4 configurations automatically detect DC/PWM fans onboard headers. 
The S1220A codec SupremeFX is the integrated audio solution for flat frequency responses and detailed, neutral sound signatures. The front panel is equipped with dual op amps for delivering sonics with authority and scale so that a virtual world is created via your headset.
The patent-pending, I/O shield is finished with a sleek matte look and is pre-mounted so that the installation is easy. Moreover, there is the ASUS SafeSlot that ensures maximum endurance. The ASUS Aura app offers complete RGB lighting controls with many presets for LEDs and LED strips.
This motherboard can be powered by a 7th generation Athlon processor as well. The eight-channel HD audio and Auto-tuning for optimization make this motherboard amongst the most favored ones. 
For gaming networks, the Intel Gigabit Ethernet, GameFirst and ASUS LANGuard technologies are present, which combine with the incredible gaming connectivity options including USB 3.1 Gen 2 Type-A and the Dual M.2 connectors
9. MSI ProSeries B450-A Pro Max best motherboard for Ryzen 5 3600x
Reasons to Buy
Multi GPU PCIe slots within steel armor
Audio Boost with studio grade sound quality
Display interface selection from HDMI, DVI, or VGA ports
Reasons to Avoid
Customer services from MSI need to be better
MSI B450-A Pro Max brings enhanced compatibility and cross-gen Ryzen support. Perhaps the best motherboard for Ryzen, with its Click BIOS 5 designed with a very easy-to-use layout and system tuning capabilities.
The scalable graphics performance this motherboard offers is due to the multi GPU support from the AMD CrossFire technology.
The placement of PCIe slots is smartly done for the most optimal airflow. This airflow helps in keeping the graphics card as well as the board from overheating. 
The premium power delivery components placed on an optimized circuit design helps in an efficient power system that can deliver precise current output for the CPU.
Moreover, the memory performance is unmatched where a high-performing DDR4 Boost for RAM can be used to get the most out of it. The circuit design of memory is optimized for fast and short transmission from a reserved section of the motherboard.
The Audio Boost, a dedicated sound card from an HD audio processor, and a dedicated amplifier are isolated from the rest of the motherboard circuit for ensuring the purest audio signal. 
The PCIe steel armor fortifies the motherboard with multiple solder points that can support the weight of heavy graphics cards. PCIe Gen3 x4 maximizes performances for the NVMe based SSDs.
The motherboard supports 1st, 2nd, and 3rd gen AMD Ryzen and Ryzen with Radeon Vega graphics cards, 2nd Gen AMD Ryzen with Athlon desktop processor for socket AM4. The DDR4 memory supported up to 4133 (OC) MHz.
MSI Pro series also features a flash BIOS button that can simply be used to flash any BIOS within a matter of seconds, without having to install Memory, CPU, or the graphics card. There are 4 RAM slots and each of them comes with 16 GB making the total capacity is of 64 GBs. 
10. GIGABYTE B450 M DS3H V2 Best Motherboard for Ryzen 5
Reasons to Buy
RGB Lighting in seven colors
Onboard high-quality Audio design
Solid pin power connectors
Patented double locking bracket
Reasons to Avoid
Some complaints about poor heat dissipation
No Wi-Fi supports
Ready for the latest Ryzen 5000 series, this Gigabyte motherboard is backward compatible with AMD Ryzen 3000 processors as well including the Ryzen 5 3600 processor.
It is one of the best motherboards for Ryzen 5 with a rich list of features including the Ultra Durable armor for PCIe and memory slots, refined audio quality, USB Type-C interfaces, and much more. 
With the AMD StoreMI technology, the motherboard accelerates all the traditional storage devices by reducing their boot times and enhancing complete user experiences.
It combines the incredible speed from SSDs with the high capacity of HDDs all in one single drive. This improves the reading and writing speeds of the device making them able to tackle bolsters of data for an incredible value.
With this improved system responsiveness and affordability, this motherboard becomes one of the most favored ones of all. 
Talking about the board's performance, this Gigabyte UD series motherboard uses 4 + 2 phases digital PWM MOSFET with Low RDS (ON) design. It supports the 3rd Gen AMD Ryzen CPUs with the precision of power delivery to the most energy-sensitive and power-hungry parts and components of the motherboard.
This motherboard also takes the lead when it comes to connectivity, the M.2 solution offers a substantially fast storage performance and support for SATA as well as PCIe interfaces for M.2 SSD devices.
The B450M DS3H has an industry-leading LAN Static-electricity and surge protection as it used the ICs up to three times the ESD resistance level if compared with conventional ICs.
This also aids in preventing any damage from the static electric charge that can potentially destroy the motherboard. the anti-surge ICs protect the board against inconsistent and irregular power delivery.
Smart Fan 5 makes interchanging fan headers easy and reflects different thermal sensors placed at different locations on the board. With that, the Smart Fan also supports both Voltage and PWM mode fans for more liquid cooling. 
Considerations when buying the best motherboard for Ryzen 5 3600
Before you get yourself a new motherboard, you must figure out its future and what you're expecting from it. The purpose, usage, and routine will determine which is the best motherboard for Ryzen you should get. Those key considerations include keeping an eye out for.
Form Factor
The first thing you need to sort is the size of the motherboard you're getting. The size of the motherboard should not be too large or too small for the PC case. Common form factors motherboards come into are Mini-ATX, Mini-ITX, ATX, microATX, etc. If the board is too big for the PC case it will cause many unwarranted issues, the biggest being frequent heat-ups due to less air circulation. In cases like these, you must go for smaller motherboards such as mini-ITX.
Graphics Card Support
The motherboard you pick should be able to support several graphics cards. When it comes to graphics cards for your PC, the AMD 2nd and 3rd generation with Radeon graphics is your best choice. Albeit, having a versatile combination presents more options for boosting performance.
Socket Type
Another important factor is the socket type on the motherboard. You need to choose the motherboard's processor socket carefully as it will house the CPU. Different CPUs require different socket types, and for an AMD Ryzen 5 3600 CPU, you'll have to find a motherboard with an AM4 socket. 
Expansion options
In addition to the CPU, a motherboard connects various other components as well. This primarily includes networking cards, graphics cards, sound cards, and many others. The Peripheral Component Interconnect Express i.e., the PCIe ports and slots are crucial in all new systems as they are capable of connecting all components.
There are four sizes of this PCIe slot, the most recent being PCIe 4.0. The size dictated the output from the connection and before getting a motherboard, you need to make sure the size you need. Make sure you get the appropriate expansion slots that currently and in the future will support your requirements and connections. Another important thing to keep in mind here is the placement of these slots on the board and the airflow they allow.  
SATA Ports
When buying a motherboard for your computer system, always figure out how many SATA ports you will be needing as these are the ports that allow you to connect storage drives like the HDDs or the SDDs. This decision is also based on how you plan on using the PC in the future. 
Audio
Usually, the built-in audio on the motherboard works quite well if you're not a serious audiophile or the hardware you already have is faulty or low-end. If you fancy enhanced sound quality and perfect notes, get a motherboard only after you've been satisfied with the given codec. You can also go for USB speakers or sound cards to get the job done.
Chipset
A motherboard's chipset factors in when it overclocks, it also determines the number of PCIe lanes and how many devices or components can your motherboard connect with. The most compatible chipset with Ryzen 5 3600 Zen 2 processor is B450 and X570. Among the two, B450 is recommended for this processor as it offers better overclocking support and performance. 
Ports
If you intend to connect multiple devices with the board or if you're a gamer, the number of ports available on the motherboard is an important consideration for you. You must always overestimate when it comes to ports as it gives you more options and flexibility for future usage. Some essential ports you should look for are a keyboard, headphones, microphone, mouse, and such USB devices. specifically look for USB 3/ USB 3.1 Gen 1 or Gen 2, HDMI, Audio, DisplayPort, USB Type-C ports. 
Heatsink
Heatsinks prevent the motherboard from frequent heat-ups of the components and are responsible for keeping the system cool at all times. Get a motherboard that has an Aluminum alloy heatsink for helping the system in reducing the heat it produces. 
Core Boosters
Your motherboard's layout defines the core boosting ability it has. Core boosters can turn your everyday processor into a beast, and if you desire a powerful processor for advanced computing needs, check for core boosters. 
Memory Storage Boosts
The faster the memory transfer speed the better your processing speed is. Having premium PCIe can make this memory transfer rate faster than the usual ones and speed up all the processes. USB 3.2 is a great choice if you wish to make your motherboard more capable.
Conclusion
When building a Ryzen 5 3600 computer system, thoroughly researching for the right components is a normal practice to get yourself all the pieces of hardware that perfectly complement each other.
You can enhance cooling, connectivity, and many more aspects of your system just by choosing the right motherboard for it.
The motherboard is probably the most essential part of your PC and so is it called the "brains" of your computer. In absence of a compatible motherboard for your system, you're left with an inefficient PC that will be caught up in its own dance.
A motherboard is a base of all the components that will be installed on your computer, hence, making the base worthy and stable is the key! If your processor is from the AMD Ryzen 3000 Series, this article will help you land the best motherboard for the Ryzen 5 3600 processor giving you the liberty to weigh the pros and cons of some great motherboards from the industry-leading brands. 
Also read:
Best Motherboard for Ryzen 7 3700x
Best B450 Motherboard for AMD Ryzen
Best Motherboard for i7 9700k
Here are some other interesting models that you might like:
MSI Performance Gaming AMD Ryzen 1st, 2nd, and 3rd Gen AM4 M.2 USB 3.2 Gen 2 DDR4 HDMI Display Port...
Supports 1st, 2nd and 3rd Gen AMD Ryze / Ryzen with Radeon Vega Graphics and 2nd Gen AMD Ryzen with Radeon Graphics / Athlon with Radeon Vega Graphics...
Supports DDR4 Memory, up to 4133(OC) MHz
Mystic Light and Mystic Light Sync: 16. 8 million colors / 17 effects in one click. Synchronize RGB/RAINBOW strips and other RGB solutions for...
Lightning Fast Game experience: TURBO M. 2 with M. 2 Shield, StoreMI, AMD Turbo USB 3. 2 GEN2
Core Boost: With premium layout and fully digital power design to support more cores and provide better performance.
Sale
MSI ProSeries AMD Ryzen 2ND and 3rd Gen AM4 M.2 USB 3 DDR4 D-Sub DVI HDMI Crossfire ATX Motherboard...
Supports 1st, 2nd and 3rd Gen AMD Ryzen/ Ryzen with Radeon Vega Graphics and 2nd Gen AMD Ryzen with Radeon graphics/ Athlon with Radeon Vega Graphics...
Supports DDR4 Memory, up to 4133(OC) MHz
Turbo M.2: running at PCI-E Gen3 x4 maximizes performance for NVMe based SSDs
Flash BIOS button: Simply use a USB key to flash any bios within seconds, without installing a CPU, Memory or graphics card
Multi-gpu: With Steel Armor PCI-E slots. Supports 2-Way AMD Crossfire
Sale
ASUS TUF Gaming B550-PLUS WiFi AMD AM4 Zen 3 Ryzen 5000 & 3rd Gen Ryzen ATX Gaming Motherboard (PCIe...
AMD AM4 Socket and PCIe 4. 0: The perfect pairing for Zen 3 Ryzen 5000 & 3rd Gen AMD Ryzen CPUs
Robust Power Design: 8+2 DrMOS power stages with high-quality alloy chokes and durable capacitors to provide reliable power for the last AMD...
Optimized Thermal Solution: Fanless VRM and PCH heatsink, multiple hybrid fan headers and fan speed management with Fan Xpert 4 or the UEFI Q-Fan...
High-performance Gaming Networking: WiFi 6 (802.11ax), 2.5 Gb LAN with ASUS LANGuard
Best Gaming Connectivity: Supports HDMI 2.1 (4K@60HZ) and DisplayPort 1.2 output, featuring dual M.2 slots (NVMe SSD)—one with PCIe 4.0 x4...
MSI Arsenal Gaming AMD Ryzen 2ND and 3rd Gen AM4 M.2 USB 3 DDR4 DVI HDMI Crossfire ATX Motherboard...
Supports 1st, 2nd and 3rd Gen AMD Ryzen/ Ryzen with Radeon Vega Graphics and 2nd Gen AMD Ryzen with Radeon graphics/ Athlon with Radeon Vega Graphics...
Supports DDR4 memory, up to 4133(OC) MHz
Extended heatsink design: MSI extended PWM heatsink and enhanced circuit design ensures even high-end processors to run in full speed.
Lightning fast game experience: 1x turbo M.2, amd turbo USB 3.2 gen2, store mi technology
Core boost: With premium layout and digital power design to support more cores and provide better performance.
Sale