The Intel Octa-Core i7 9700k processor is a quite capable gaming processor chip that offers great frequencies and loads of power. Though this CPU lacks hyperthreading like the Ryzen 5 3600, it can provide impressive frame rates, but only if bundled with a suitable graphics chip and motherboard.
Best Choice
Good Choice
Don't Miss
Also Consider
GIGABYTE Z390 AORUS ULTRA (Intel LGA1151/Z390/ATX/3xM.2 Thermal Guard/Onboard AC Wi-Fi/RGB…
MSI Z390-A PRO LGA1151 (Intel 8th and 9th Gen) M.2 USB 3.1 Gen 2 DDR4 HDMI DP CFX Dual Gigabit LAN…
ASUS Prime Z390-A Motherboard LGA1151 (Intel 8th And 9th Gen) ATX DDR4 DP HDMI M.2 USB 3.1 Gen2…
ASRock Motherboard (Z390 Phantom Gaming-ITX/AC)
Best Choice
GIGABYTE Z390 AORUS ULTRA (Intel LGA1151/Z390/ATX/3xM.2 Thermal Guard/Onboard AC Wi-Fi/RGB…
Good Choice
MSI Z390-A PRO LGA1151 (Intel 8th and 9th Gen) M.2 USB 3.1 Gen 2 DDR4 HDMI DP CFX Dual Gigabit LAN…
Don't Miss
ASUS Prime Z390-A Motherboard LGA1151 (Intel 8th And 9th Gen) ATX DDR4 DP HDMI M.2 USB 3.1 Gen2…
Also Consider
ASRock Motherboard (Z390 Phantom Gaming-ITX/AC)
With a maximum frequency of 4.90GHz and 8 cores to handle all processing tasks, the Intel i7 9700k processor is the new talk of the town. However, one definitely requires a potent motherboard to unleash Intel's full power. We are here with the 10 best motherboards for i7 9700k to help solve that issue. 
Are you in search of the best motherboard for i7 9700k in 2023? We know that recognizing the best one out of the many exceptional options is a tough chore. So, here are our top 10:
Every single aspect of this top contender among all the best motherboards for i7 9700k has been specially designed. It ensures that consumers can benefit from the Intel 9th Gen CPUs in the best way possible.
The Gigabyte Z390 AORUS Ultra supports M.2 SSD devices and two-channel DDR4 to avoid blockages and throttling when piling data into the memory. The motherboard comes equipped with the latest generation wireless solution by Intel, also called the Wave 2. It promotes up to 1.73 Gbps speed, further enabling an extra-smooth gaming experience and video streaming.
Moreover, Wave 2 enhances wider channeling, MIMO, and a few other advancements that make the Gigabyte Z390 AORUS Ultra the perfect option for everyone who prefers to get an outstanding wire-free performance.
Not to forget the exceptionally placed thermal mechanism of this motherboard. It incorporates a multi-cut heatsink with wide thermal pads and direct touch heat pipes. Thus it maintains low temperatures for hardcore gaming and overclocking.
The manufacturer has still added a potent alternative as a solution to the same heat and thermal issue. It is the triple M.2 thermal guards, specially positioned to safeguard your memory devices from heat.
What's more? the Multi-zone Digital Light Show design and RGB Fusion 2.0 offers extra brightness to the motherboard. The Light Show's digital multi-zone design presents a unique presentation that looks very cool.
When bundled with the 2.0 RGB Fusion version, the multi-zone light show feature gives you full control over the Gigabyte Z390 AORUS Ultra's LED. Undoubtedly, this board is one of the few super-powerful motherboards any built PC can possess. Though, what makes buyers hesitant is its high price tag.
PROS
Outstanding CPU overclocking
Loads of decent solutions to transfer heat
Diversified Digital LED lighting ways
Solid design
CONS
A little pricey in contrast to other Z390 options
Our second pick is this budget-friendly board by MSI, one of the most popularly known fits for an Intel i7 processor. Constructed like a sports car with cool-looking curves, the MSI Z390-A PRO LGA1151 motherboard renders outstanding execution with its core boosting and impressive looks.
This board is compatible with all i5-9600k, i7-9700k, and i9-9900k processors for the 9th Generation Intel Core lineup. Though it substantiates all other Cores coming in between the above-mentioned figures, the board favorably sits with the varieties from the 8th Generation Intel series. 
To boost Intel's massive overclocking feature, the MSI Z390-A Pro board is well equipped to support DDR4 memory with its definitive efficiency of up to 4400(OC) MHz. Also, with the two Turbo M.2 slots, this board provides dual-channel for DDR4 memory. 
Another worth mentioning feature is its integrated I/O design, loading MSI with enough slots and USB ports to connect several machines at a time, both from the front as well as the rear interior. 
Coming to the spec that makes this board unique from all the other motherboards for i7 9700k mentioned here, the splendid magical light show system, that too packed in half the price of our overall best board. 
The manufacturer states that they have used almost 17 million colors to eventually make the board capable enough of producing 29 effects in just one click. The MSI manufactory names this feature 'the Mystic Light' that supports both RGB Strip and Rainbow LED simultaneously.
The board is assembled with high-density materials, prolonging its reliability and life for your perfect custom-built PC. Moreover, just like the GIGABYTE board above, MSI has also worked pretty well in consuming a thermal enhancement system for solving the dissipation issue. Installing a thermal heatsink design to help combat heat while ensuring full processing speed is also a decent advancement made by MSI. 
For the most part, this extremely low-priced motherboard has all the ingredients to make for a solid board bundle with the exceptional Intel i7 processing chip. But apart from its features, it struggles to compete with other options that are multi-GPU capable. 
PROS
Solid and firm gaming performance
Reasonable pricing
Tons of I/O connectivity options
Impressive Mystic Light Show 
CONS
Supports only Single GPU builds
The GIGABYTE Z390 UD is another good option for users who want to build a top-tier gaming PC without severely affecting their bank balance. This board is a great all-rounder which offers a decent voltage-regulating module, capable enough to support the massive Intel i9 9900k processor as well. 
This GIGABYTE UD beast features a top-tier Intel Gigabit LAN along with the automatic capability of bandwidth allocation. A powered network, the GPN, and 802.11ac wireless produces WTFast which makes any motherboard super-compatible in controlling loads of games easily. 
What especially makes Z390 UD a gaming pro board is its ability to deliver users a smooth and faster internet experience via the Realtek 8118 LAN. However, the absence of integrated WiFi capacity to connect your computer wirelessly can turn you off.
Additionally, the two-way crossfire multi graphics system embedded on the board will let you play on maximum frame rates without compromising on the resolution. 
This motherboard for intel i7 9700k has got a proper system to fight back the thermal issue. You will find an efficient Smart Fan 5 along with a control fan mechanism, base plates, and thermal guards to protect M.2 slots.
GIGABYTE Z390 UD motherboard is a huge bang for your buck as it offers a great cooling system and an excellent Realtek ALC887 audio chip, making its features set almost the same as what high price board options in the market have for you. 
The outlook of GIGABYTE Z390 UD is also pretty catchy, supporting a grey and simple black design with an optimized layout that allows easy swapping and installation of all components.
The board carries a single PCIe Gen3 x4 M.2 connector, 6 SATA 6GB, and four dedicated slots to support two-channel DDR4 memory. Along with this, it also has an armored PCIe 3.0 x16 port, support for Intel Thunderbolt 3, and eight USB 3.1 slots. Good news for RGB light stips fans, the GIGABYTE Z390 UD is said to have that option as well. 
PROS
Incredible price for all included features
Includes Intel Thunderbolt 3 port 
Carries RGB light strips
CONS
If you are in search of the latest motherboard that sits well with the massive Intel i7 9700k processor, then the TUF Z390 by ASUS is the right choice for you.
ASUS has exquisitely designed this board with the compatibility of both Intel Core 8th and Core 9th Generation processors and is sure to be an absolute newly launched match for the Intel i7 9700k as well.
Your new gaming pro TUF ASUS motherboard is equipped with all the distinct featured LAN connections to ensure you a stable and consistent internet transmission through the board.
TUF Dual interconnect and LANGuard between the board's media access controller and Intel 1219V offers you a reliable, fast stable internet connection passing through your desktop PC.
All of these key features work perfectly together to build a powerful inter-connection so that you can easily endure the experience of an electrifying multiplayer match or play online movies in Ultra High Definition settings.
The ASUS TUF Z390 board makes use of a two-channel memory mechanism that supports DDR4 RAM running at a super-fast speed of up to 2666 MHz. Another worth mentioning quality of the latest TUF Z390 is that the board features several connectivities as well as expansion slots. You will find two M.2 slots for SSD allowing the installation of multiple SSDs from the BIOS settings.
While manufacturing the all-in-one package, ASUS keenly worked out a fantastic way to make its latest board launch reliable and durable. The TUF gaming board is built with a military shape design so that you run your PC for a long time without getting into the building hassle again. You will also find this board extensively protected via TUF's high protection mechanism like TUF Chokes, TUF MOSFETs, and Capacitors.
This motherboard for i7 9700k supports Input and Output ports given on its rear exterior. It has 1 HDMI port, a single display port, and four USB 3.1 Type-A. The board is also pre-equipped with an installed I/O shield.
PROS
Excellent connectivity
Military Built
Support for M.2 storage
Distinct featured LAN connections to ensure a stable internet
Equipped with Military Grade TUF protection mechanism
CONS
The ASUS Prime Z390-A motherboard is another inexpensive option whose excellent performance and special design have earned it a rank amongst the 10 best motherboards for i7 9700k.
This ATX measured motherboard features an aesthetic-looking silver, white, and dark outlook. The board has a chipset sink and a white backboard spread, with ASUS Aura Sync taking the RGB lighting strips, joint of both, beyond the checkbox. 
However, the absence of RGB onboard illuminations is a big downside associated with the ASUS Prime Z390-A motherboard. The thin printed circuit board has a unique white design which makes it look different from all the other components sitting on the ASUS Prime motherboard. This motherboard by ASUS makes use of three PCIe 3.0 full-length slots with two protected by ASUS SafeSlots. All these spaces work at x4, x8, and x16. 
It indicates that the board formally underpins dual-channel SLI and up to 3-way multi-GPU Crossfire arrangement. 
The Prime Z390-A motherboard is ideal for users who are fond of gaming as well as running multiple tasks at a time, thanks to the super-efficient information move rate of up to 32 Gps. Similarly, you can confront unequal availability of speed via Type-C USB 3.1 and Type-A USB 3.1 drives.
With such combinations, one can easily combat a high degree of information paces. Another quality of this board that perfectly assists a working framework or an application drive, especially when you require speedy information transfer speed, is the PCI 2.0/3.0 x4 transmission capacity. 
The board memory capability arises from four different RAM slots with the support of DDR4-4266 and the largest possible extent of up to 64 GB. Also to mention Prime Z390-A's arrangement capacity which incorporates 2 M.2 PCIe 3.0 x4 slots, with only one possessing the capability of supporting the SATA drive. 
If you need a motherboard that helps you relish the most out of your favorite gaming titles then it must have a perfect cooling mechanism. Fortunately, ASUS has solved this matter beforehand by fitting FanXpert 4 that keeps your Prime Z390-A's temperature low. 
PROS
Supports Crossfire Multi-GPU
SLI support
Carries PCIe 3.0
AURA Sync Support
Inexpensive
Decent outlook
CONS
Lacks RGB onboard illuminations 
Designed for 8th and 9th Generation Intel Core central processing units, this best motherboard for i7 9700k is indeed a pricey board but worth your spendings.
The ROG Maximus XI Hero Gaming motherboard by ASUS delivers an extraordinary performance with multiple amazing features and lots of capabilities of processing with its incredible hardware.
Undoubtedly, ASUS has shown special vigilance in building this board to make it recognized as one of the best gaming motherboards on the market.
It improves speed and availability with dual-M.2 spaces, onboard 802.11ac Wi-Fi, USB 3.1 Gen 2, and the Opti Mem II by ASUS for decent overclocking dependability of DRAM. 
If you are an overclock consumer or a consistent gamer, this motherboard is certainly designed for you. Featured together with the overclocking master Opti Mem is the five-way optimization which cleverly overclocks while the pre-equipped FanXpert 4 cools the dynamic framework. 
The pro-gaming ROG Maximus XI Hero Z390 by ASUS offers you six stockpiling ports of SATA 6 Gb/s. Also packed within are PCIe M.2 spaces operating PCIe x4 paths, consequently 32GB per second of execution. You can also access multiple 3.1 ports via the connecters placed on the inner side of this motherboard. 
Coming to the type of RAM installation and the main memory storage. This board supports up to 64GB of main memory storage via the two-channel DDR4 placed near the DIMMs single-latch slots. 
Furthermore, ASUS has particularly focused on providing its users different and beautiful lighting effects in just one click with the help of its very well recognized multiple spectra of colors embedded with the RGB lighting system. 
To add a bit more flavor along with RGB, this board features another highly likable element in the realm of gaming, the AURA Sync feature. Additionally, this motherboard is a perfect fit for anyone who requires a board with a high-quality voice and sound system. 
Wrapping it all up, the ROG Maximus Gaming Hero XI is indeed very ideal for overclockers and gamers who are in search of an all-in-one board and can bear its overly expensive pricing.  
PROS
Excellent performance and brilliant overclocking
Clever cooling mechanism
Attractive design
CONS
The MSI MPG Z380 Gaming Edge is another great mainstream choice for your Intel i7 9700k top-tier processor. Just like the ROG Maximus XI Hero by ASUS, this board is a gaming pro computer component but this time far more reachable for gamers who have a tight budget.
This advanced motherboard, despite being cheap, offers brilliant features and an outstanding gaming likable performance. It supports DDR4 memory of frequencies as high as 4400 MHz and is also compatible with up to 64 GB of RAM. 
The manufacturer has especially worked on the MPG Z390's style by adding the carbon iteration so that users play their favorite games in a much stylish mode. 
Users are also allowed to control the color combinations of their super-efficient motherboard by a single nifty feature. Via customization, one can choose adaptable color and hue combinations to adapt their gaming animations as per their preference. 
MSI has also given its users the Mystic Light capability that will let all gamers endure a magic light show made up of a combination of nearly 17 billion colors, that too in a single click. 
Another big news particularly for those who like gaming with an extra RGB touch, MSI has also combined its latest MYSTIC light technology with RGB LED Strip and RAINBOW light show.
Of Course, a dedicated motherboard for gaming has to combat tons of heat to ensure better performance, thus the MPG board is pre-equipped with loads of cooling systems like heavy heatsinks and fan headers. 
Several ports are also installed on MPG Z390 for instance, the PCIe and M.2 for mounting SSD, SATA magnetic hard drives, USB, HDMI, and DisplayPort as well. All of these options are there to ensure that every gamer is provided as many ways of connectivity as possible. 
Though this motherboard for i7 9700k is very well suited for gaming at an affordable price, the lack of compatibility with SLI and the absence of integrated Wi-Fi connecting options might make it lose the attention of many gamers intending to own a potent board. 
PROS
Dual M.2 Slots
Inexpensive
Decent cooling features 
Crossfire compatibility in low price tag 
Wide range of onboard connectivities 
CONS
Lacks integrated Wi-Fi
Does Not support SLI
The EVGA Z390 FTW motherboard is an affordable full-featured board that has everything an overclocker or an occasional gamer needs to unlock the full potential of the Intel i7 9700k processor.
Thanks to Creative's Sound Core 3D Audio capability, the EVGA Z390 FTW is a fit choice for anyone craving great sound quality. The Sound Core can generate high-fidelity sound so that you endure a next-level, superb listening experience.
Furthermore, the sound produced will be utterly pure, free from all kinds of distortions or noises. Also, the 3D Audio feature is capable of supporting gaming all on its own so that you do not have to put in any extra sound card to relish your gaming periods in the way you expect.
The presence of strong internet connectivity and other ports is essential for every PC user nowadays. Fortunately, the board under discussion solves a major part of the connectivity issue. EVGA Z390 FTW offers you internet connectivity via Wi-Fi as well as the ethernet option, that too, accessible at the same time because of the latest DoubleShot Pro Technology.
Though this board is not equipped with a built-in RGB Lighting strip, the manufacturer has still provided an RGB header so that users can easily place it as per their choice.
This motherboard for i7 9700k is super affordable yet a mighty piece of option offering all the features desired by gamers and a few more to put a smile on the faces of those who wish for excellent sound quality.
PROS
Doesn't require a dedicated audio card
Creative's built-in Core3D Audio card
Affordable board
DoubleShot Pro Technology enables simultaneous internet connections
CONS
Overclocking could be better
For placing a mini ITX motherboard in the top 10 motherboards for i7 9700k we have chosen the ASUS ROG Strix Z370-I which is by far the most suitable mini ITX board to fit in the Intel Core i7 9700k processor. 
If you are aspiring to assemble a high-end coffee-lake gaming PC with a small size board but you still want the possibility of overclocking your processor to be wide and clear then perhaps the best choice is ASUS ROG Strix. This motherboard is currently one of the most costly in the market but indeed worth spending for.
Although the board is super small and has limitations to up-gradation, you will indeed get surprised to see all its offerings. This board features two M.2 ports, both of them accompanied by separate heatsink headers so that the heat doesn't affect them too much. Also bundled together is the much-gossiped AURA Sync RGB Lighting feature by ASUS with RGB headers. 
The Strix Z370-I also carries USB 3.1 and support for DDR4 memory of up to 32GB with a considerably high after overclocking clock rate potential of up to 4333 MHz. ASUS has also treated its users with some of its best features like the FanXpert 4 to well equip its Z370-I board for combatting heat and also the 5-way optimization. 
The ASUS ROG Strix Z370-I board also carries an 802.11AC Wi-Fi dual-band antenna to offer all of its consumers an advanced connectivity source. 
The board is very fascinating but you have to bear the fact in your mind that ITX mini motherboards won't provide you room to carry out future upgrades. However, we suggest you tackle this issue beforehand and fit in all the high-end units for future-proofing. Otherwise, you might need to purchase a new one after some time.
Finally, if you are in search of a small form factor mini ITX mother to build a PC that is powered by the Intel i7 9700k but can afford to give a heavy setback to your budget then this piece right here is the best choice for you. 
PROS
High clock rate potential
AURA Sync RGB Lighting
Onboard 802.11ac WiFi
Two M.2 Sockets
CONS
Small Form Factor
Expensive
No room for up-gradation
Let's be very honest, you do not have a substantial amount of options when it comes to finding a decent ITX form factor motherboard, especially for a processor like the Intel Core i7 9700k.
However, after seeing the amazing qualities of this small but mighty motherboard, we are forced to add the ITX ASRock Z390 Phantom Gaming board to our list of the best motherboards for i7 9700k.  
The ASRock Z390 Phantom Gaming ITX motherboard is an all-rounder pic for fans of little form factors. It carries 5 phase VRM, which is quite small compared to all the other options mentioned above, but it is very remarkable given the restricted room this board has for users. 
The motherboard is a seriously high-quality board that packs more than a few outstanding features like an eight-layer PCB, an extra perk for decent audio cravers the Sound Blaster Cinema Audio 5, and even a Thunderbolt 3 which is something very rare even in ATX form factors. However, don't forget that the Thunderbolt 3 is only half-speed compared to the usual Thunderbolts. 
In terms of connection ports, ASRock provides you two M.2 slots and 4 USB 3.1 Gen 2 ports. For smooth and reliable internet connectivity it has 802.11ac Dual-band 2T2R WiFi by Intel with Bluetooth 5.0. The board also comes with 4 SATA ports.
Coming to ASRock's durability, it is featured with ASRock Super Alloy's high-density rugged gaming armor to give the board some extra touch of protection. The board is small but gives its users a high-end feel, thanks to its matte black design further boosted by the Polychrone Sync. 
PROS
Carries Sound Blaster Cinema Audio 5
Matte design
Two M.2 Sockets
CONS
Small Form Factor
Limited space for up-gradation
Buying Guide: What Things to Consider When Buying the Best Motherboard for i7 9700k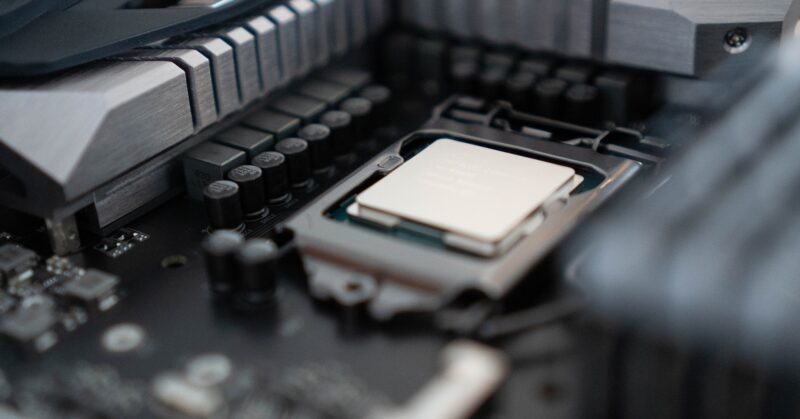 The most crucial decision while custom building your PC is what components to go with. It is very important to make sure that all components sit in harmony under the hood or else the computer wouldn't generate the particular degree of power you are expecting from it, even if you somehow manage to fit the Intel Core i9 or any other top CPU.
Similarly, the motherboard needs to keep up with its corresponding processor and not get overheated while you relish long sessions of your favorite multiplayer game. 
As the motherboard is arguably any PC's prime component, nothing else will run efficiently without it, not even a potent processor like i7 9700k.  
Without any further delay, let's get straight into a few dos and don'ts while you choose an option from among the best motherboards for i7 9700k.

Compatibility With Processor
Before choosing a motherboard for making your ideal PC, the first and the most significant consideration should always be its compatibility. If the manufacturer has already mentioned that their board will work in conjunction with your chosen processor, proceed to check the other features. In the case of the top 10 best motherboards mentioned above, all of them support Intel Core i7 9700k processors and other 8th and 9th Generation Intel CPUs too.

Processor Sockets
Once you make sure that the motherboard is capable of supporting your chosen processor, the next step is to confirm what processor socket does it possess. There have been several different kinds of sockets to place the processor safely into a machine's motherboard, but only three have evolved to remain applicable to date. These are BGA, LGA, and PGA. To fit in an Intel i7 9700k easily, all you need is an LGA processor socket. On the split end, PGA sockets are well suited to work with AMD processors like the AMD Ryzen 7 3700x or Ryzen 5 3600 whereas BGA is soon to become obsolete.

Form Factor
After selecting a processor socket you need to choose a form factor. Though, the smaller the size of a form factor, the lesser will be the expansion slots. But still, Micro ATX motherboards are common nowadays. However, we suggest you go with ATX motherboards. It is popular as well as worth spending as it supports expansion slots which sometimes are very useful if the motherboard compromises a few inbuilt features.

RAM
Next is the Random Access Memory, or commonly known as RAM. You might be thinking about what motherboards have to do with RAM. But in reality, it is solely this board that determines the type and size of RAM your PC can have. Hence, it's worth keeping under consideration before deciding on which motherboard to buy for your PC. Likewise, we will also suggest looking for such a board that can adjust at least 16 GB of RAM, irrespective of what you are planning to buy as there is always a high chance of you requiring more RAM than your expectations. Also, another recommendation is to select a board that provides four or more memory slots. This implies that you can initially go with two installed modules while leaving two vacant spaces for any future upgrades.

SATA
Next up on the list of considerations before purchasing a motherboard is to check the number of SATA ports you require. Such ports enable you to connect storage drives or an optical drive like an HDD or SSD to your machine. Therefore, it is very essential to confirm that your future motherboard carries the required number of SATA ports.

RGB Lighting
If you are someone who likes to game with an aesthetic atmosphere created via RGB LED light show then it's better to confirm some extra spice in the motherboard which is soon coming to your home. Thanks to RGB headers, external lighting patterns are offered by motherboard manufacturers to add to your CPU. Companies like MSI have gone one step ahead by offering their users the ability to experience an incredible light show of 16.9 million colors with a single click.

Cooling Mechanism
A motherboard that carries all the essential qualities discussed above is sure to undergo a serious overheating problem. Thus it is necessary for such a motherboard to also come pre-equipped with an ultimate solution to thermal dissipation. Yes, you must look for motherboards with internal spaces to fit pump heads and fans along with all the reserved areas for RAM. The best fit mechanism for this issue is a PWM fan control which detects and controls temperature levels within the board.
Frequently Asked Questions
Will AMD B450 Motherboards Go With Intel Core i7 9700k? 
To truly endure the performance of an Intel Core i7 9700k processor all you need is a motherboard with a 300 series chipset embedded within, such as Z390, Z370, or B360.
Whereas on the split end, the AMD B450 chipset is a mid-range chipset that supports processors that are compatible with the AM4 socket type, basically AMD-based processors. 
What is the best gaming motherboard for i7 9700k?
The ROG Maximus XI Hero Gaming motherboard by ASUS is by far the most ideal choice for any gamer unless he or she can compromise on its price. Not just for Intel-based PCs, but this board is also a well-balanced and effective option for all kinds of systems. 
There are loads of incredible motherboards to fit into systems that are based on an Intel Core i7 9700k processor. However, only those with an LGA 1151 processor socket will work in harmony with the CPU to offer an extraordinary presentation. 
That said, these 10 best motherboards for i7 9700k listed above are some of the most perfect ones, bringing you reliability, high-quality performance, and top-notch features to run efficiently with the processor. 
We recommend you to go for the GIGABYTE Z390 AORUS Ultra as it is clearly the winning board of our list. Not so suitable for your pockets? Then why not pick the Z390-A PRO, a perfect budget motherboard by the tech giant MSI. Nonetheless, the choice is yours to make as all of the above-mentioned motherboards can do wonders!