by
Zaraki Kenpachi
|
Last Updated on
July 2, 2021
The days when decent gaming PCs were sold for a fortune are long gone. Nowadays, you can easily relish the experience of AAA games with fair framerates on prebuilt PCs that will cost you not more than $600. If you are someone who has a shoestring budget and doesn't want to get into the hassle of custom building desktop rigs, this is the right place for you! We have brought up the 10 best gaming PC under $600 for 2021.
The top 10 choices below possess surprising capabilities, offering you the best value for your money.
Our Recommendations for Best Gaming PCs Under $600
Top 10 Best Gaming PCs Under 600
1.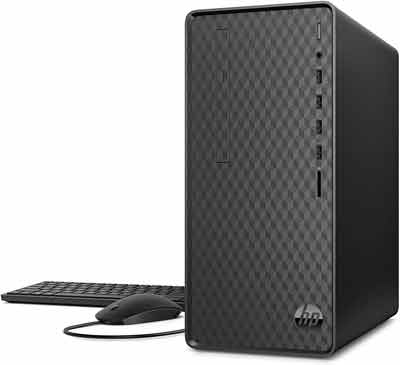 AMD Ryzen 3 3200G Quad-Core Processor
AMD Radeon Vega dedicated graphics
8 GB DDR4 SDRAM
512 GB SSD Storage
Windows 10 Home OS
USB Type-C Port
This desktop computer is a part of Hp's M01 series which is stylish and small enough to save you a lot of room on your computer desk for a gaming-pro mouse or an extra thrilling keyboard that can add more excitement to your gaming sessions.
It houses an AMD Ryzen Quad-core CPU, complemented by 8GB DDR4 SDRAM to provide you with fair power of multitasking. Though 8 GB RAM has more high-end competitors, in this model by Hp, the 8GB RAM sits well with other specs.
Bundled together is AMD Radeon Vega, a dedicated high-end graphics chip to give you the lag-free experience of old games on high settings and a few modern games as well but on medium settings. Moving on, Hp attaches 512 GB of SSD storage for you to store as many games as you like.
Taking into consideration all the powerful specifications, small and subtle design, and a wide array of connectivity ports including a USB-C slot, the Hp desktop computer is well worth your spending.
2.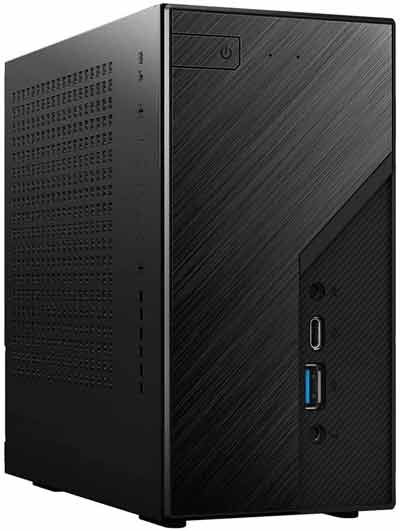 AMD Ryzen Quad-Core 3-3200G Processor
AMD Radeon Vega RX 8 Graphics
16GB DDR4 SDRAM
512GB NVMe SSD Storage
Operating System not included
USB Type-C and M.2 Ports
DeskMini X300 by CUK AsRock is another exceptional pick, equipped enough to be called the best value gaming PC under 600 bucks. This desktop PC is all you need if you are in search of a money-saver plus space-saver machine with a little extra pop of graphics. Its chassis is not very impressive but what's held inside is worth spending.
The Quad-core AMD Ryzen 3 3200G processor, with a max clock speed of 4.0 GHz, makes this compact-designed PC fast enough to run mid-level games and that too without lagging as the processor is paired with an AMD Radeon RX Vega 8 GPU.
This gaming PC under 600 bucks is well equipped for long sessions of multitasking. All the credit goes to the 16GB of DDR4 SDRAM and the fast processing SSD storage. CUK AsRock has also ensured good connectivity options by offering M.2 and USB Type-C slots.
3.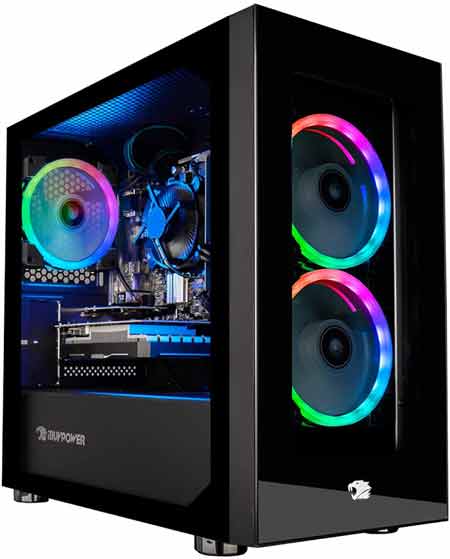 AMD Ryzen 3 3100, 3.6GHz, 3.9GHz Max Turbo
Dedicated AMD Radeon RX-550 Graphics 2GB
8GB DDR4 SDRAM
240GB SSD Expandable Storage
Windows 10 Home 64-bit OS
SATA and M.2 Ports
iBUYPOWER has produced some excitingly potent gaming desktop PCs over the years, including innovative big rigs and the most reasonable VR-ready systems. However, even among these powerful game-ready machines, the iBUYPOWER Element Mini 9300 Gaming PC is by far the most stylish mini desktop PC the company has ever made.
Don't let its looks and extra small size deceive you as this mini PC packs way more power than many similar sized competitors, thanks to its AMD Ryzen 3 CPU and a dedicated AMD Radeon RX graphics embedded within.
The good-looking, affordable PC is not the most powerful gaming machine but offers solid frame rates and enough gusto to let you play your favorite titles at higher graphics settings. The PC also delivers excellent cable work and supports a storage top-up option via the given M.2 slot so that you can overcome the storage issue.
4.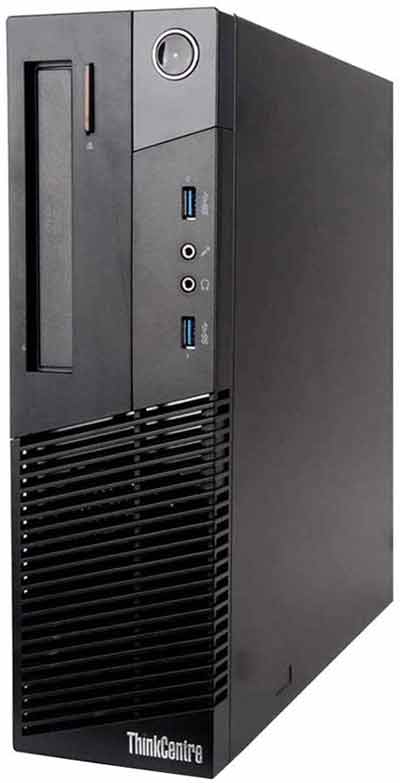 Intel Quad-Core i7-4770 4th Gen Processor
NEW NVIDIA GT-1030 Dedicated Graphics 2GB
16 GB DDR4 SDRAM
256 GB SSD Storage
Windows 10 Home 64-bit OS
USB Type-C Port, Fingerprint Sensor
The miniature Lenovo M93P Gaming Desktop PC works equally well as any other gigantic gaming rig. Despite occupying almost no space on your office desk, the Lenovo M93P is a full-featured PC that offers you more than your expectations.
For high power processing, Lenovo ThinkCentre M93P houses a quad-core Intel i7 CPU eligible for running at 3.4 GHz. This degree of power indicates that the processing chip within this budget pick can run almost all the famous PC games.
Paired with the CPU is the NVIDIA GT-1030 dedicated graphics chip so that you endure a glitch-free gaming experience most of the time. With that, the Lenovo desktop offers you 16GB of RAM, more than enough to process large chunks of content at a time.
However, you might not get that realistic effect you want while you play Minecraft, Fortnite, or PUBG, as the graphics card doesn't seem to act well with the exceptional Intel i7 sitting with it under the hood.
5.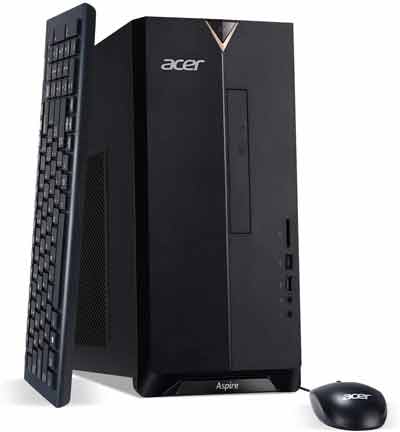 Intel Core i5-10400 10th Generation 6 Core Processor
Intel Ultra-HD Integrated Graphics 630
12 GB DDR4 SDRAM
512 GB SSD Storage
Windows 10 Home OS
USB Type-C Ports
The Acer Aspire TC-895-UA92 Desktop computer is Acer's third consecutive launch in the TC series. It is a step-up machine compared to the first two starter models.
Not only does it have larger memory, but also an Intel i5 processor with 6 cores and a maximum boost frequency of 4.3 GHz. Such a bundle is hard to find, especially if you are in search of a budget gaming PC under 600.
Thanks to a perfectly matched Intel Ultra HD Integrated Graphics Card, you will be able to make the most out of the CPU while you play your favorite games, unlike Lenovo M93P whose GPU doesn't fit well even with Intel i7.
Moreover, it comes with 512 GB SSD storage which is fantastic, and an already installed Windows Home OS along with a DVD writer, USB mouse, and keyboard.
6.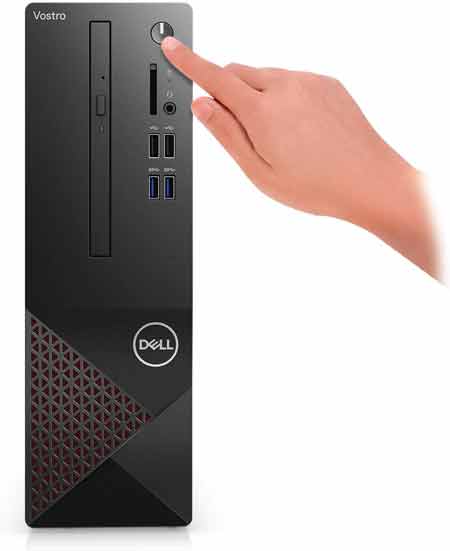 Intel Core i3-10100 10th Generation Quad-Core Processor
Intel Ultra-HD Dedicated Graphics 630
16GB DDR4 SDRAM
512 GB SSD Storage
Windows 10 Pro OS
Dell Vostro 3000-3681 SFF Desktop PC is one of the best-selling budget machines of Dell. Much like all the PCs manufactured by Dell, this computer offers decent performance as well.
It is powered by an old-fashioned but powerful Intel i3 10th generation processor which enables it to generate satisfactory speed that can support occasional gaming and is perfect for small businesses.
Apart from this when combined with the extra suitable Intel Ultra HD 630 dedicated graphics card, Window 10 Pro OS, and sufficient memory and storage, it offers an exceptional all-around execution.
7.

AMD Ryzen 5 2400GE Quad-Core Processor
AMD Radeon Vega 11 Integrated Graphics
8GB DDR4 SDRAM
256GB SSD Storage
Windows 10 Pro OS
The shiny-looking mini PC is fueled by an AMD Ryzen 5 four-core processor with an integrated AMD Radeon Vega 11 graphics card which is just right for running more than a few modern games at medium settings.
This gaming PC under 600 bucks runs on Windows Professional OS, with a decent DDR4 memory worth 8GB that can handle gaming software and a few background programs at a time. You will also be pleased to see the plentiful array of ports revealed right in front of the computer chassis.
Moreover, as the name suggests, this ultra-small PC will prove to be a potent space saver without compromising its output performance and stylish, compact design.
8.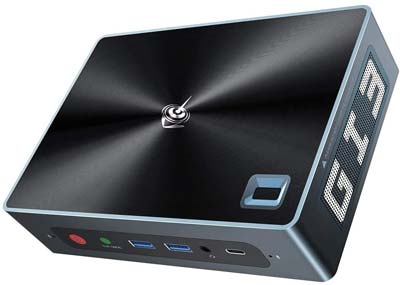 Intel Ice lake 10 Gen I3-1005G1 Processor
Intel Ultra-HD Graphics
8GB DDR4 SDRAM
256GB SSD Storage
Windows 10 Pro OS
USB Type-C, M.2 and SATA Ports and Fingerprint Sensor
This best gaming PC under 600 dollars is a newly introduced low-power mini PC in the market. The PC is pretty unique due to the 10th Generation Intel Core i3-1005G1 chip which gives it sufficient power to run Windows 10 Pro and heavy desktop programs.
Not to forget the Intel Ultra HD Graphics chip, specially designed for a 10th Generation processor, which sits in a perfect combo with other specs. Beelink GTI10 is compatible with USB Type-C and Thunderbolt 3 ports as well as the ability to extend its 8 GB RAM up to 64 GB.
This new model by Beelink performs very much like its predecessor, the Beelink GTR Mini PC, though both of them are powered via different components. Not only in terms of performance, but the two mini PCs also possess similar outlook features.
9.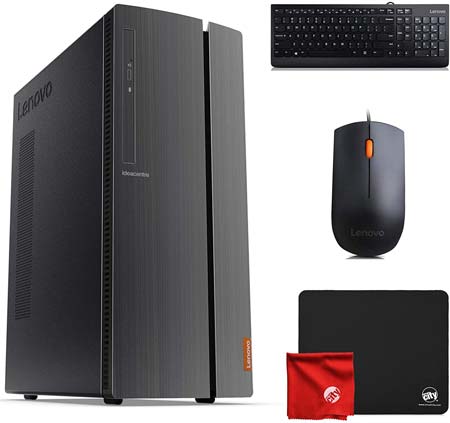 AMD Ryzen 3 3200G 3rd Generation Quad-Core Processor
AMD Radeon Vega 8 Graphics
8GB DDR4 SDRAM
256GB SSD Storage
Windows 10 Pro 64-Bit OS
The Lenovo 510A desktop PC is certainly one of the best gaming PCs under 600. It offers substantial room to upgrade and comes bundled with peripherals. This PC is powered by a 3rd Generation AMD Ryzen 3 Quad-Core processor, bundled with 8 GB of memory and 256GB storage.
These all are fused to generate some strong gaming execution that will amaze you considering the price. The one linked here is pretty much an all-in-one package including a keyboard, gaming mouse, mouse pad, a power cord, and an adapter. That means you don't have to visit the market to buy peripherals.
One little drawback is its case which is grey and very plain, making the PC look old-fashioned compared to other models on this list. However, looks are not much of a concern for those who only want to experience good gaming while the desktop sits beneath their desk.
10.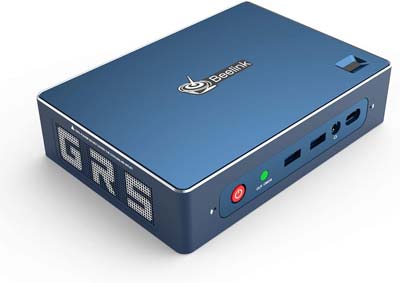 AMD Ryzen 5-3550H Octa-Core Processor
AMD Radeon Vega 8 1200 MHz Graphics
8GB DDR4 SDRAM
256GB SSD Storage
Windows 10 Professional OS
M.2 and USB Type-C Ports
Beelink GTR Mini PC, powered by Windows 10 OS, is a well-crafted small form factor PC that comes with a good processing punch because of the Octa-Core AMD Ryzen 5 processor housed within. The machine offers good upgrade options and a bevy of ports.
You will be delighted to see how its compact size easily fits over or under the desk. The machine is pretty fine for light gaming and general usage. Though, you might endure some annoyance due to its extra loud fans.
The PC's lacking graphical display is one of the few drawbacks of the machine along with the 8GB RAM. It makes the PC struggle in churning large amounts of data quickly.
Despite this, Beelink GTR's decent light-gaming pro capabilities and generous expansion options embedded in the compact PC make it one of a kind.
Also read: Best Gaming Laptop under $500
Conclusion
The realm of sub-$600 gaming PCs is crammed with poor buys that comprise imbalanced components or focus on reducing extreme corners to keep the price down. However, you won't encounter any such piece because we have already sought this issue for you.
Choosing any desktop PC from the list of best gaming PCs under 600 bucks shared above can prove to be a great way of boosting your everyday gaming experience while ensuring you don't disrupt your budget.
What we suggest is to opt for the Hp M01 series Desktop Computer. It is both affordable and capable enough to handle more graphically strong gaming titles without having to compromise a lot on frame rates.