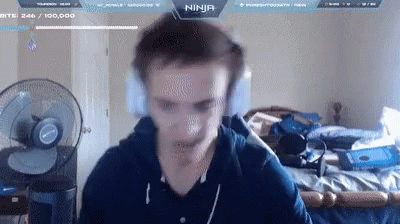 At this point, nearly every gamer out there is familiar with Ninja. He started becoming prominent back when he professionally used to play Halo but then quickly rose to fame when Fortnite came out and later transitioned into a whole host of other shooter games as well.
Needless to say, at the time of writing, Ninja is one of the most prominent players on Twitch, and if you have been keeping up to date with what has been happening around in the world of gaming, a lot of people are swarming to get their hands on the Ninja keyboard, along with other equipment.
Also read: Best TKL Mechanical Keyboard
What keyboard does Ninja use?
As far as the keyboard is concerned, the keyboard that Ninja uses (our answer to What keyboard does Ninja use?) is also one of my favorite keyboards, and it is the Corsair K70 RGB. I have been using the keyboard for as long as I can remember and it happens to be one of the best keyboards available in the market. That is why we have decided to do a review to make sure that you are aware of how good the keyboard overall is.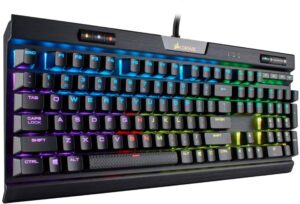 Corsair K70 RGB – Mechanical Gaming Keyboard
Gorgeous design
High-quality components
Key switch selection
Helpful extra features
Check on Amazon
The Build Quality 
First things first, if am buying a gaming keyboard and it is not built like a tank, I am not sure if I can entrust it with long hours of usage because, in such situations, it is always going to create an issue for me if my keyboard decides to give up on me.
With that said, when I bought the Corsair K70 RGB home and unboxed it, I realized just how good the keyboard is as far as the build quality is concerned. After using it for some time, I can tell you that if you are someone who is an intensive gamer and you do other tasks on your keyboard as well, you don't have to worry as it is built like a tank and will not give up on you.
Everything ranging from the solid plastic base to the amazing aluminum top plate is great and will withstand the longest of gaming hours. Additionally, you are also getting a thick braided cable that can withstand use and abuse with ease.
The one thing that I wish Corsair had improved happens to be the keycaps that are made out of ABS rather than the more expensive PBT plastic but Corsair does sell them separately, so you still have some good options available should you wish to change those.
Simply put, for anyone who is looking for an extremely well-balanced keyboard in terms of build quality and something that is not going to break the bank, the K70 RGB is something that should be on the top of your list.
Also read: Best 60% Keyboard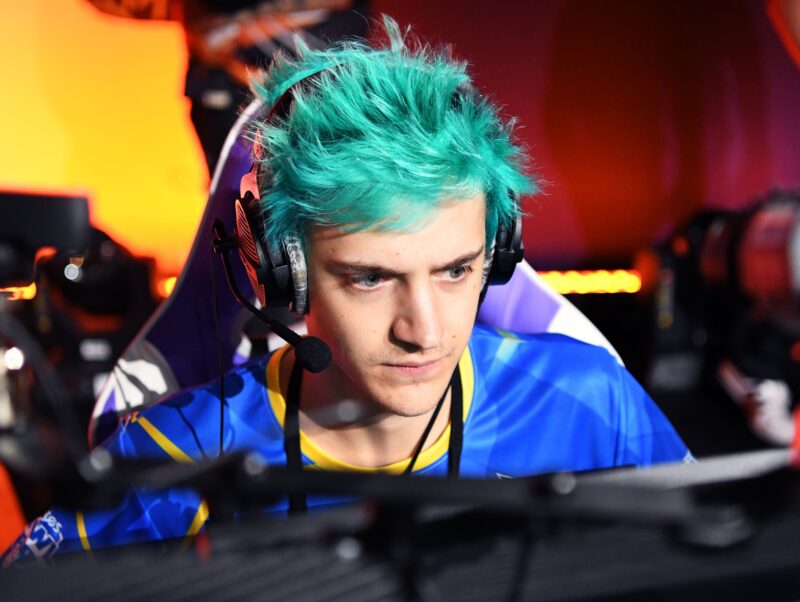 Typing and Gaming Experience 
Now, a gaming keyboard or any other keyboard is worth nothing to me if I cannot type and game on it without having to worry. I have to be honest with you here, the K70 RGP was my first ever mechanical keyboard. Which means before that I spent the gaming life using the heap of membrane keyboards that all feel the same. So, you would be surprised to know my reaction when I first started using the keyboard.
Granted, it took me some time to get used to how fast this keyboard was, but after a while, I realized that this is the best investment that I had made and this keyboard was fantastic in almost every single way.
Also read: What Headset Does PewDiePie Use?
If you are looking for a good gaming keyboard that is great at typing as well, then the K70 RGB is not something that you should be overlooking. Thanks to genuine Cherry MX switches with various options available, you can easily get super-fast response times.
Not just that, the typing experience remains excellent too, but if you are a fast typist, you might want to get something like Cherry MX Blue switches because they are generally better for the typists. However, if you prefer a balance of both, you can go with Cherry MX Brown switches, which are made specifically for the hybrid users; those who want to play games as well as those who want to type away.
If you are someone who is looking forward to investing in a gaming keyboard that is good for both typing and gaming, you can get your hands on the Corsair K70 RGB with your eyes closed and you would be pleased by just how good it performs throughout the entirety of your experience. There are no issues whatsoever coming in the way, and you would do just fine.
Software and Other Features
Gone are the days when setting up a keyboard was a simple experience, the modern-day keyboards require software to fully function and it does not matter if you are using Logitech, Razer, or Corsair, a keyboard software is a must.
True, the keyboard is still true to its plug and play nature, but you have to understand that if you wish to change the lighting, record macros, and reassign keys. For all of these, you are going to need software. Corsair's iCUE takes the helm for all this customization and while it is a bit difficult to understand at the start, once you get used to it, it is one of the most powerful and comprehensive options available.
You only need to beat the learning curve, and after that, pretty much everything is safe and straightforward to a point that you will not have any problems as far as the usage is concerned.
Conclusion 
In conclusion, I have to tell you that right off the bat, the Corsair K70 RGB is one of the most impressive keyboards available for you to get your hands on. The performance is one of the more respectable ones and for anyone who is looking for a solid option that is not going to bleed your bank account dry, this keyboard is a great option that you should be getting.
If you are willing to customize the keyboard lighting or any other aspect of it, you can through iCUE, and even the rest of the aspects are top-notch, so you truly are not left behind as far as the feature set is concerned.