Every gaming enthusiast wants the best Corsair Mouse to be a part of their gaming gear one day or the other.
It is nearly impossible to chase that annoying in-game enemy if the mouse you're using is having a hard time keeping up with your movements in the game.
The functionality and performance of your mouse play a more significant role in your overall gaming experience than your skills, a deal-maker, or a deal-breaker! 
Our Top 3 Recommendations for Best Corsair Mouse
In case you are in a hurry, here are our top 3 recommendations on the best corsair mice.
Editor's Choice
Corsair Ironclaw Wireless RGB
18,000 DPI
Highly configurable resolution settings.
Hyper-fast Slipstream sub 1ms wireless technology
10 fully programmable buttons
Custom PixArt PMW3391 native optical sensor
3 high-accuracy connection modes
Top Pick
Corsair Glaive PRO RGB
18,000 DPI Optical sensors
7 fully programmable buttons
Well built and comfortable design.
Interchangeable thumb grips
Excellent sensor performance & low click latency.

Not ideal for claw grippers
Budget Friendly
Corsair Scimitar RGB Elite
18,000 DPI Optical Sensor
17 fully programmable buttons
High-speed, ultra-accurate Engine
Ideal MMO and MOBA gaming mouse
Intelligent controls with RGB LED lights

Software may cause a drop in PC's frame rate
Keeping the vitality of a good gaming mouse in mind, Corsair has taken it upon itself to bring the best gaming peripherals, especially gaming mice, to the market since 1994. The main reason all casual and professional gamers are so fond of Corsair mice is that they offer the most durable finish with an ultra-accurate and swift operation.
Not only do these mice offer incredible tactility, speed, and compatibility, they also come with excellent ergonomic designs so you don't end up with a chronic arm or wrist pain. And this is why they are ideal for long gaming sessions. 
The best Corsair gaming mouse will ideally offer you highly customizable settings and various programmable buttons (Check Best Gaming Mouse with Side buttons). Switch DPIs, enjoy multi-key toggles and stay at the top of your game with the stunning polling rates these mice provide.
So, yes! A Corsair gaming mouse is a must-have if you plan to spend long hours hunting, chasing, and gunning down your virtual opponents. 
Top 10 Best Corsair Gaming Mouse
Now, the tricky part is to pick the best Corsair gaming mouse but to help you do so, we've brought some Corsair mouse reviews. Read on!
1. Corsair Ironclaw Wireless RGB – Editor's Choice
If you're looking for the best Corsair mouse for fps, look no further! Corsair Ironclaw Wireless brings you all you can wish for in a gaming mouse. From a carefully sculpted and contoured shape to ten powerful programmable buttons, this mouse has it all. 
The best part? It offers three modes of making a secure connection, the first being an interface-free wireless connection with the Corsair Slipstream technology.
Second, a low-latency Bluetooth connection, and third, a USB wired connection that also charges the mouse as you play. 
Experience complete sensitivity customization with the best corsair gaming mouse as it allows you to tune the responsiveness in 1 DPI step with a custom PixArt 18,000 DPI optical sensor.
Moreover, the Orman Switches actuate smoothly and durably to give more than 50 million clicks.  
The CEU Corsair software enables easy customization and lets you synchronize all its compatible devices with the Corsair mouse's RGB lighting.
Having a Corsair Ironclaw Wireless mouse as a gaming accessory means precise, accurate, and swift actions. An overall elevation of the whole gaming experience!
Pros
Hyper-fast Slipstream sub 1ms wireless technology
Custom PixArt PMW3391 native optical sensor
Three high-accuracy connection modes
Cons
CEU software compatibility issues with selected PCs
2. Corsair Glaive PRO RGB – Top Pick
Unarguably the best Corsair gaming mouse you will see, Glaive PRO makes sure you play unbothered for as long as you can.
The overall design is artistically contoured to give a natural and comfortable fit to your palm so you don't get tired during those long gaming sessions.
To add to the support and relief to the thumb, corsair Glaive Pro comes with three interchangeable thumb grips that can be fashioned according to need and fit.
The aluminum casing and high-performing Omron switches, which are rated for more than 50 million clicks, add to the life of this mouse and enable it to withstand all the wear and tear throughout years of intense gaming. 
With the incredible variety and huge range of available RGB backlighting effects and colors, you can customize your entire gaming experience whenever you like.
Furthermore, the integration of Corsair iCEU software will open more possibilities for customization. This also eliminates the need for additional drivers and software as your onboard storage saves all these customized settings. 
Counter all your in-game opponents with the precision optical sensing abilities of your Glaive PRO mouse and play to win!
Pros
18,000 DPI Optical sensors
Interchangeable thumb grips
Seven programmable buttons
Cons
The scroll wheel gets noisy with time
Not ideal for claw grippers
3. Corsair Scimitar RGB Elite – Budget Friendly
Corsair tells you to "Play your way" and while putting together this Corsair mouse review, we completely understood this phrase.
Corsair Scimitar brings all your abilities at your thumb's reach in a patented slider control panel.
Twelve side buttons, all easily reachable while maintaining a firm grip, are repositionable and offer instant access to button remaps and custom macros.
These programmable buttons are ideal for MOBAs and MMOs. For MMO gaming, three special predefined profiles in place have common controls along with some general-purpose shortcuts. 
For catering to the normal wear-and-tear of everyday extended gaming, Corsair comes with a strong cable, sturdy Omron Switches (rated for 50 million clicks), and a durable scroll wheel.
Moreover, it comes with a right finger rest that adds support and ease to the already comfortable contour of the mouse. 
The native custom PixArt 18,000 DPI optical sensor provides precise tracking and customizable 1 DPI resolution steps.
There is an added feature for surface calibration which automatically optimizes the sensor's responsiveness and accuracy for the surface it's on. 
Pros
High-speed, ultra-accurate Engine
Ideal MMO and MOBA gaming mouse
Intelligent controls with RGB LED lights
Cons
Software may cause a drop in PC's frame rate
4. Corsair Harpoon PRO RGB Wired Best Corsair Mice
Specially contoured rubber grip and the lightweight design pair up to deliver utmost comfort for those long gaming sessions.
This right-handed mouse is a bit heightened in comparison with other gaming mice which offers a pleasing grip when in action.    
Corsair Harpoon PRO comes prepared with six programmable buttons which make tweaking DPIs, macros and scrolling more convenient.
With just one button for cycling through all the DPI settings, it becomes easier to access and tweak with them during an intense match. Enjoy up to 12000 DPI from an incredible optical sensor that works to give you precise control with highly accurate tracking. 
The best thing about Harpoon RGB is that you need no additional driver or software to work. All you need to do is plug the Corsair mouse into the USB port and get in action.
With the free CUE (Corsair Utility Engine) app installed, you can play with the RGB dynamic backlighting through a durable Orman switch. 
It won't be an overstatement to say that Harpoon RGB is the best corsair gaming mouse you'll come across.
Pros
Smooth gliding motion with 85G lightweight design
Well laid buttons and comfortable palm fit
12000 DPI optical sensor
Cons
Sporadic tracking due to faulty Bluetooth connection
5. Corsair Harpoon PRO RGB Wireless Mouse
With no cable to drag behind and a highly sensitive Slipstream wireless technology, the Harpoon RG Wireless ensures a very responsive and fast play.
All you need to do before a long uninterrupted gaming session is to plug the wireless adapter into the USB port and turn the mouse on.
You get uninterrupted playtime with its 30-plus hours' worth of battery life, and even if you run out of battery during a heated match, just plugin for wired mode, and your mouse will get charged while you play.
Corsair has kept these long gaming hours in due consideration when contouring the overall shape and side grips to ensure long-lasting comfort and a flexible palm grip. 
Harpoon RGB wireless is easily the best Corsair mouse with its lightweight design and fully programmable buttons placed thoughtfully for the ultimate gaming convenience.
Six programmable buttons adjust remaps, macros and, DPIs in-game without any hassle. 
Track the slightest action for a timely, swift reaction with the 10,000 DPI optical sensors in action. Corsair employs ultra-durable Orman switches that can go on for a lifetime of battle. 
Pros
Orman switch offers 50 million-plus clicks
10,000 DPI optical sensor
Sub-1ms hyper-fast wireless connection
Cons
Needs CEU software to manipulate DPI and RGB
6. Corsair Dark Core RGB Pro Best Corsair Gaming Mouse
If you desire precision and pinpoint accuracy while you play, Corsair Dark Core is just the right choice for you!  With its PixArt PAW3392 custom 18,000 DPI optical sensor you can achieve the desired level of hyper-fast yet accurate results.
The sensor can be customized in 1 DPI resolution step all while consuming the minimum amount of energy.
The mouse can be charged with an easy-to-use USB-C reversible connector.
Enjoy blazing fast responses, twice the standard response time of any gaming mouse, with the new hyper-polling technology.
This technology enables PC and mouse communication at up to 20,000Hz, which is responsible for high responsiveness. 
The side grips on this Corsair mouse are interchangeable that you can easily tailor to fit. Though the original shape of Dark Core is contoured for comfort, you can still change it according to your hand size and gaming needs. 
Play with endless options for lighting and color effects with the nine-zone RGB dynamic backlighting.
Moreover, you get eight fully programmable buttons for customization during an intense game, so you don't have to hassle just for a macro setting.
Pros
High-polling communication
Allows tailoring of side grip for utmost comfort
USB, Bluetooth, and Slipstream connectivity options
Cons
Latency issues with USB connection
7. Corsair M55 RGB Pro Best Wired Corsair Mouse
If you're planning to share your mouse with a bunch of your buddies, then you have landed on the right corsair gaming mouse review! 
The M55 RGB Pro features an Ambidextrous design which means it works for both left and right-handed people and multiple gripping styles.
It offers the same comfort and embraces to a palm gripper as it does to a fingertip or claw gripper. That is why M55 is ranked as the best Corsair mouse!
Owing to the 12,400 DPI optical sensor, Corsair M55 enables its users to enjoy a highly accurate tracking and precise gaming experience.
Gaming with Corsair M55 as a part of your gaming gear means you can go on for hours and hours without feeling any fatigue or exhaustion.
This is due to the 86G lightweight design and incredibly durable construction of this mouse.
Unlike many wired mice, a braided premium cable slows down the inevitable depletion due to years of fiery gaming. Moreover, the click-rated Orman switches allow 50 million and more clicks. 
It also features easy customization of macros and remaps in-game with eight completely programmable buttons.
Pros
86G of the lightweight, ambidextrous design
12,400 DPI optical sensor
Sturdy build
Cons
8. Corsair M65 RGB Elite Gaming Mouse
Designed and constructed to stay with you for a lifetime! The Corsair M65 RGB Elite is made from premium Anodized Aluminum into a sturdy frame to pack all the stunning features it has.
It includes an advanced native 18,000 DPI optical gaming sensor which can be adjusted in 1 DPI resolution, giving you ultra-sensitive and accurate tracking during the game. 
Manage the weight of your Corsair gaming mouse with advanced technology that allows you to adjust or lower its center of gravity.
This way, you can manually balance the weight according to your preference and grip. Reduce the mouse's weight to as low as 97G. 
Assign macros for every click and remap when needed with the eight programmable buttons placed within your thumb's reach.
M65 also features a dedicated Sniper button that reduces sensitivity instantly for crucial and precise shots.
The ergonomic placement and the durable Omron switches elevate your gaming experience altogether. 
Integration with the Corsair iCEU software allows dynamic lighting controls, synchronization, and macro programming. 
Pros
18,000 DPI for advanced FPS gaming
Special Sniper button
Tunable center of gravity for reducing weight
Cons
9. Corsair Glaive PRO Gaming Mouse
Glaive PRO gaming mouse, a sweet merger of high comfort with high performance. Ideal for the longest and the most immersive sessions, this mouse will let you play till you drop.
With a tailored fit from three included interchangeable thumb grips, you can ensure that your hand is placed right at all times.
Enjoy high accuracy with a native 18,000 DPI optical sensor that makes sure you stay at the top of your game. This gaming-grade optical sensor helps to make accurate shots and is also customizable with the CUE software. 
iCEU, is developed for sophisticated control over macro programming, lighting synchronization with other Corsair peripherals, and RGB lighting.
Brings unlimited possibilities right at your thumb.
A strong, 1.8m cable connects this mouse to the PC via a USB port making a secure and reliable connection.
Lightweight and easy gliding motions pair up with highly sensitive sensors to provide you the best corsair gaming mouse.  
Enjoy long-lasting performance when your mouse comes equipped with Omron Switches to give 50 million-plus clicks throughout its life. 
Pros
Extremely comfortable to fit
Three interchangeable thumb grips
High-quality Omron Switches
Cons
A bit fragile for harsh usage
CEU software is not supported by macOS
10. Corsair M65 RGB Elite
This Corsair Gaming mouse comes enclosed in an Aluminum Anodized frame which is constructed for long durability and longevity.
Along with a sturdy exterior, the shape and grip are highly comfortable and provide the same ease of use for all kinds of hands. 
An advanced optical sensor with a native 18,000 DPI offers sensitivity customization by adjustable 1 DPS resolution steps.
It also aids with ultra-accurate tracking and helps you fasten quick responses to stay ahead in the gaming world.
The side of your mouse holds eight programmable buttons which bring you the ability to remap or custom macros with all clicks.
Rated for 50 million and more clicks, the Omron Switches add to the durability of this device. Moreover, you can tune the center of gravity to get that perfect grip with the advanced tunable weight system. Tuning helps to lower the weight to 97g at most. 
A sniper button placed ergonomically automatically and quickly reduces the sensitivity for taking crucial shots and also helps in efficiently advancing in the game.
Pros
Manual ability to tune down the mouse's weight
Swift yet accurate sniper shot button
Highly durable Anodized Aluminum frame
Cons
Cursor randomly stops working
Things you MUST KNOW before choosing your mouse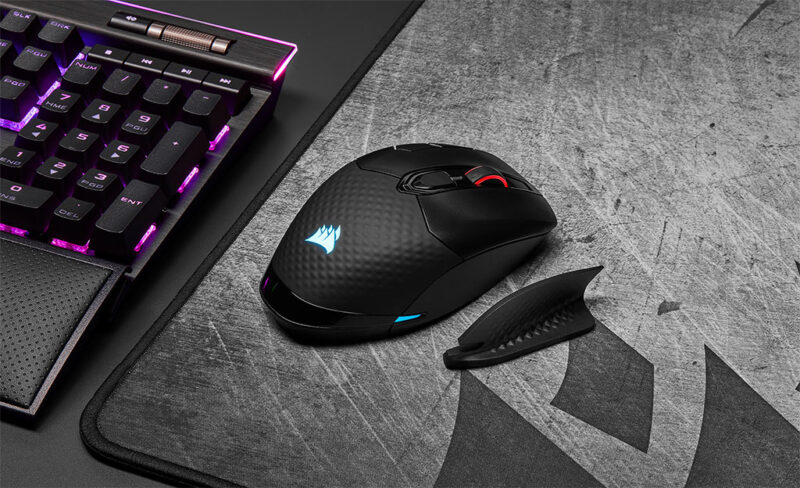 Your computer's mouse is the most used piece of hardware and its operation defines your overall experience. It is quite sane for you to weigh all your options before purchasing because let's be honest, it's not like we go mouse shopping every other day, right?
Nonetheless, it is hard to pick the best from a huge variety. If only someone could lay down some basic guidelines for you that'll help you make an educated decision. 
For that, here are some of the things you must know before choosing your mouse that we have compiled together. Take a read!
Ergonomics and compatibility
In the gaming world or otherwise, all the action comes from the mouse. If asked from a hardcore gamer, he/she will rank comfort and compatibility between their gaming style and the mouse's design at the top.
Placement of button, thumb functions, finger rests and overall contour of the mouse's body are some things to be checked. Your mouse should be comfortable to operate and durable in its construction.
Your style
The kind of games you currently play and the kinds you intend to play must be kept in mind. This narrows down the features you're looking for in your gaming mouse.
For instance, if you're an FPS gamer your focus must be on fast and accurate tracking, whereas an MMO or RTS gamer must look for additional buttons that bring macros and functions right to your thumb. 
Sensors
There are two types of sensors these mice come with, laser and optical sensors. The more preferred option here is the optical sensors as they provide a more reactive and lag-free operation.
A good sensor can provide accurate tracking along with a wide DPI range, a fast polling rate, and no jittering. A mouse with an adjustable DPI is always better than the others. Optical sensors are highly unlikely to ever throw your aim off, so, naturally, it is the preferred choice for gamers.
Know your size and grip!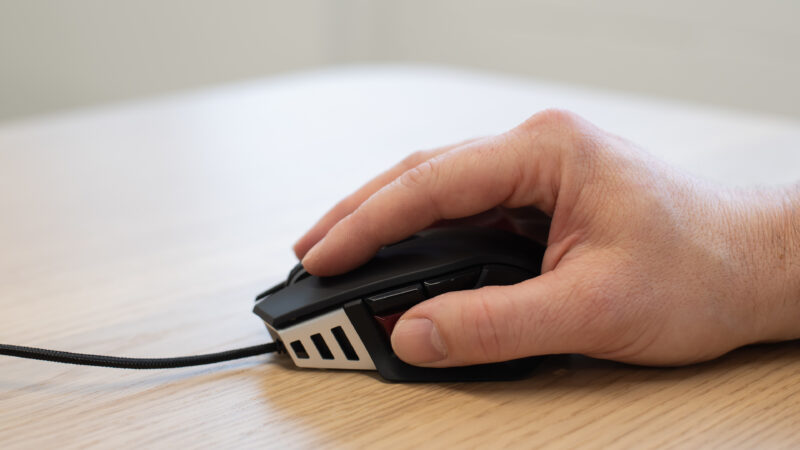 The most crucial thing to know when choosing a mouse is to identify your grip style. Grip style is how you hold your mouse.
The three major categories would be palm, fingertip, and claw gripper. All these gripping styles distribute the weight of your hand differently on the mouse and hence the movement of the mouse also differs.
See how you naturally operate your mouse and look for a mouse that is shaped the best to compliment your hand's shape, size, and grip style. 
Sensitivity or DPIs
DPI is simply a measure of the sensitivity of your mouse to its movements. You must be aware of the Dots Per Inch you need, and to do so all you have to do is look at your screen that will determine the suitable DPI you need to go with it.
Generally, high DPI is better for high-resolution displays and monitors, however, a gamer must look for a mouse with customizable DPI settings. Because when accuracy and precision are required, a lower DPI is more appropriate than a higher one. 
Weight
The weight of your mouse is a vital element you need to know for an enjoyable gaming experience.
The weight defines your mobility in-game and otherwise. If you like your mouse to easily glide and flick, look for a lightweight mouse.
Many gaming mice come with adjustable weights which means you can easily tune weight according to your preference. 
Wires?
Some gamers prefer a mouse with a wire for its durability and connection. Others are more inclined towards wireless ones as they no longer want to deal with cables and wires. Wireless mice are always a good option as they eliminate wires that might annoy you during an intense game.
Conclusion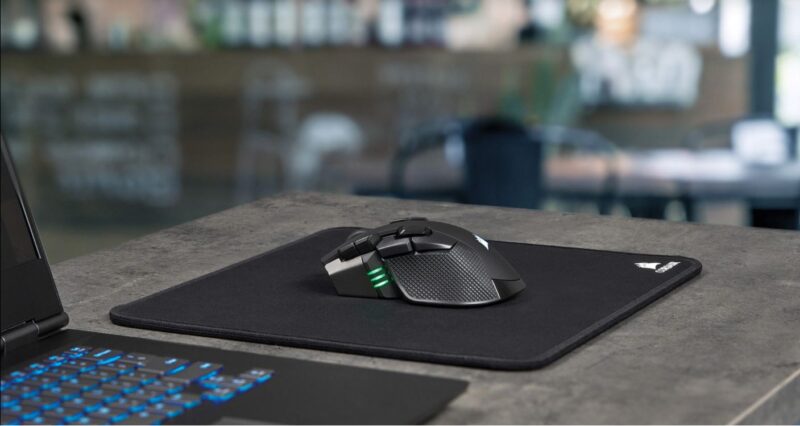 Picking the best corsair mouse can be an overwhelming process even if you are sure of what you're looking for.
It's an investment that can truly transform your entire gaming experience for the good or the worst. We've all been there, and we understand! 
Going through the best Corsair gaming mouse review might help you make a better choice. It's a compilation of some of the best sellers and best-rated gaming mice that are the top picks of some great gamers. 
A Corsair gaming mouse never disappoints, even if one doesn't fit your preferences due to a specific feature, you'll find another that will. These mice come with impressive technologies and features that make you never want to leave the game.
Concluding it all, it must be said that owning a nice corsair mouse definitely has a huge impact on your playing style and performance.
Mainly because there is one less thing to worry about. Imagine playing with a slow, low-latency device and despite all other factors being in place, you just suck at the game. It's not you, it's the mouse! And upgrading to a Corsair mouse is the solution you're looking for.